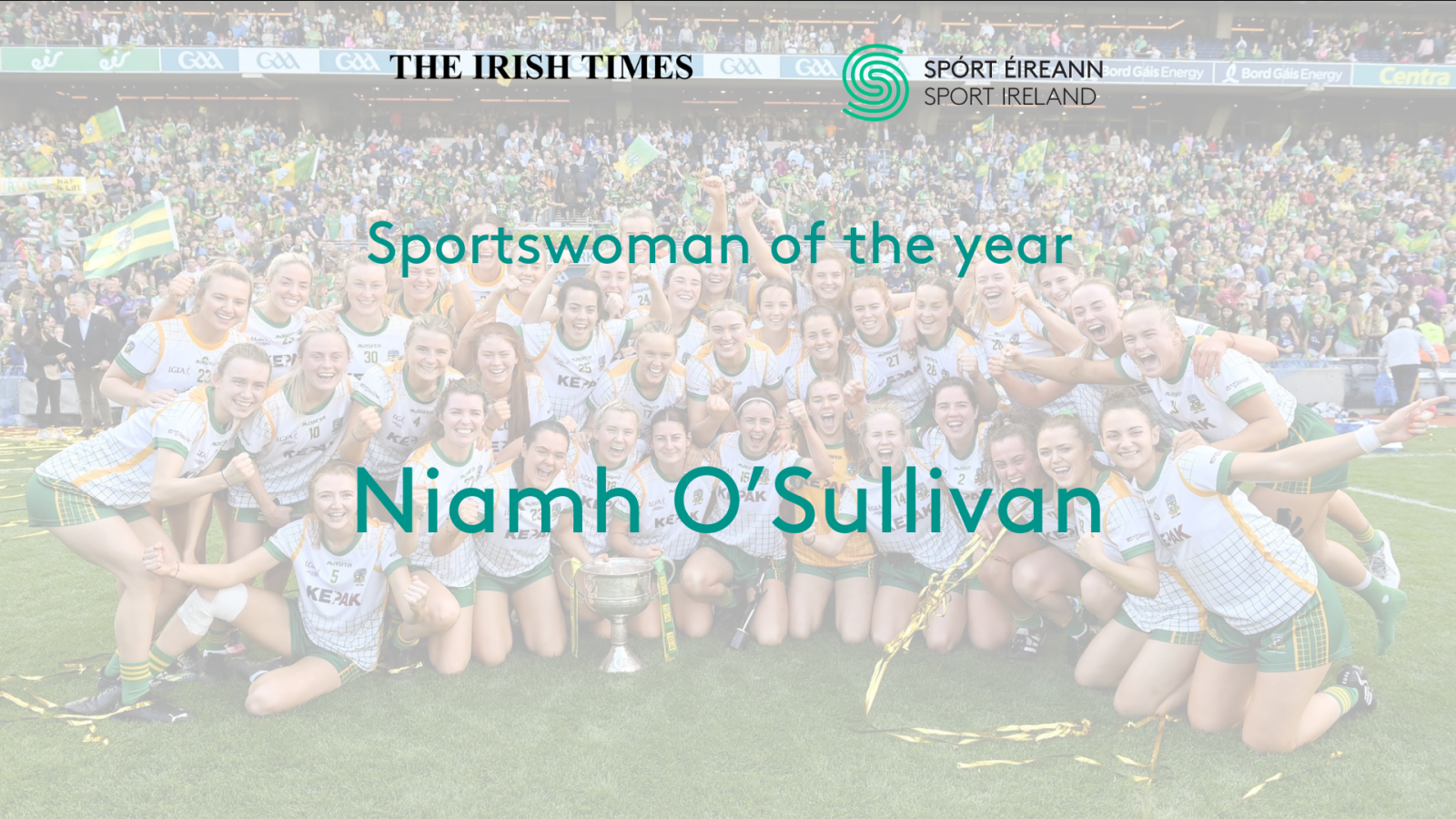 The Irish Times Sport Ireland Sportswoman of the Year Monthly Award
The Irish Times Sport Ireland Sportswoman of the Year Monthly Award – July 2022: Niamh O'Sullivan (Gaelic Football)
The Irish Times Sport Ireland Sportswoman of the Month for July 2022 is Gaelic Footballer Niamh O'Sullivan. 
Congratulations to Niamh O'Sullivan and her Meath team mates for claiming the All Ireland Senior Women's Football title and to Niamh for her crucial performance in the match and campaign.
The corner-forward's role in the final earned her the player of the match award. She was quick to point out when presented with her prize that any number of her comrades could have been singled out, among them half-backs Aoibheann Cleary and Emma Troy who were both outstanding, as was Vikki Wall further up the field, while Bridgetta Lynch made a big impact from the bench.
But aside from her contribution of a goal and two points, a tally matched only by Kerry's Louise Ní Mhuircheartaigh on the day, O'Sullivan played a huge part in Meath recovering from an early deficit and finding their feet in the game, her energy, pace and aggression unsettling the Kerry defence, not least for their kick-outs when the Dunshaughlin Royal Gaels player never gave them a moment's peace.
Her 45th minute goal proved pivotal, coming at a stage when Meath were struggling to shake off Kerry's challenge, the score stretching their lead from two points to five and from there they pulled away. Lynch added another goal three minutes later, Meath going on to win by a comfortable nine points.
Niamh O'Sullivan's role as player of the match on the winning Meath team that lifted the Brendan Martin Cup for a second year running ensured she is a worthy winner of our monthly award.
-ENDS-
Established in 2004 by The Irish Times, The Irish Times Sport Ireland Sportswoman of the Year Awards recognise the abilities and achievements of women in Irish sports. The awards run over a 12-month period, with the judges selecting a winner each month for her ability to excel at sport. The monthly winner is announced in The Irish Times Women in Sport pages which are published every Thursday. 
For further information email: sportswomanoftheyear@irishtimes.com 
#ITSportswoman #WomeInSportIRE