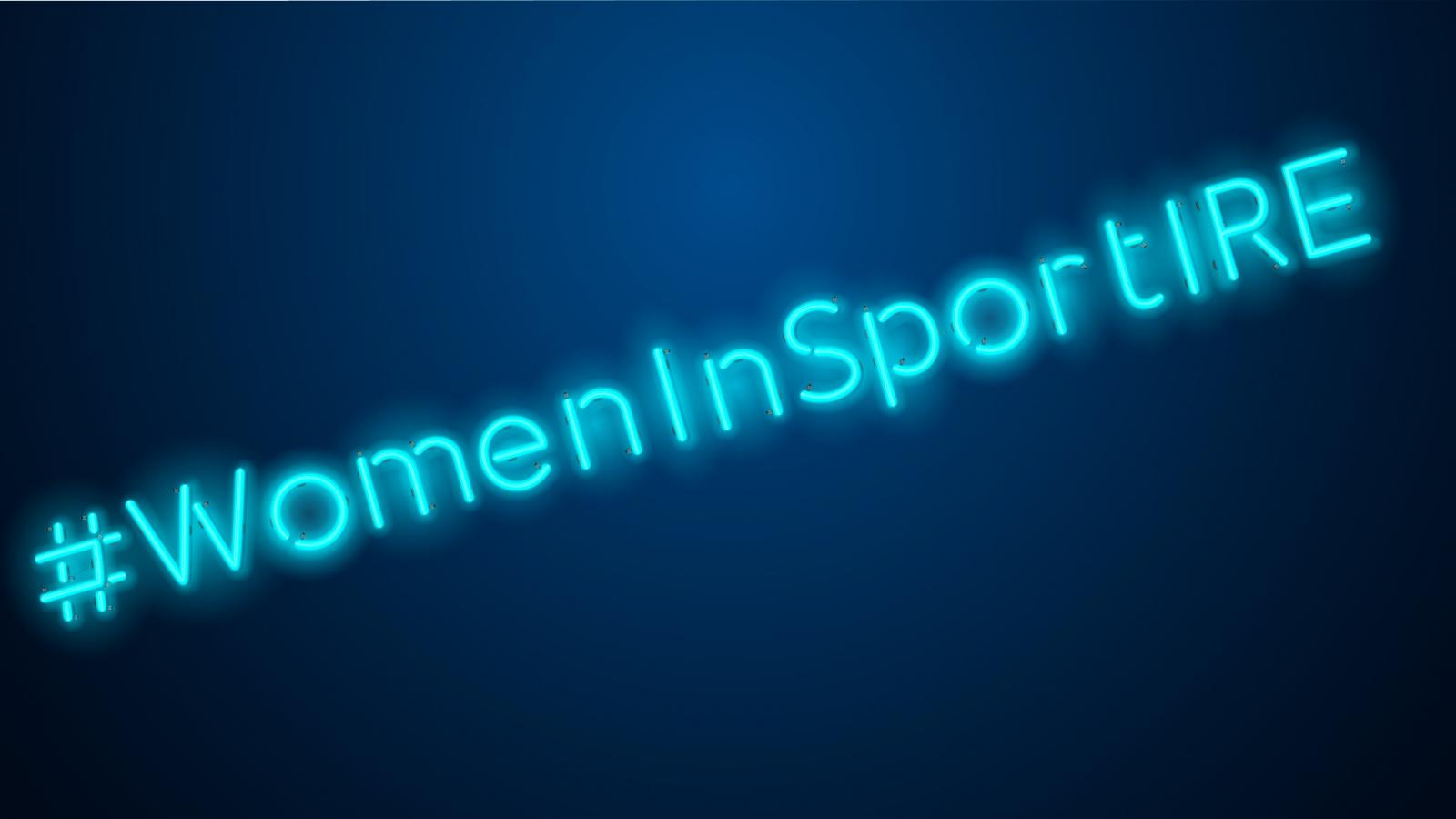 Coaching Profile: FAI
Name:  Eileen Gleeson
Sport: Football
Qualification: UEFA Pro Licence , Assistant Manager Women's National Team
Eileen has been coaching in women's football for approximately 20 years.  She started her coaching career with Ballymun United in the Dublin Women's Soccer League and also had a spell with St. James Gate before moving to Peamount United where she was manager from 2006-2014.  She guided Peamount to the inaugural Women's National League title in 2011-12 and was the first coach to lead an Irish team to the last 32 of the UEFA Women's Champions League.   It was Eileen who uploaded footage of the goal scored by her striker at the time - Stephanie Roche – which went viral on YouTube and was subsequently nominated for a FIFA Puskas Award.   She went on to manage UCD Waves for 3 seasons before quitting to focus on a PhD.  Last year Eileen became Vera Pauw's assistant with the Women's National Team,  she is one of only two Irish females to hold the UEFA Pro Licence.
What advice would you give someone considering progressing to a higher level in coaching?
If you're considering progressing to a higher level in coaching, then you're already half-way there. However,  I would advise you to consider the time, the demands and the expectations that come with higher-level coaching. Network and speak to others currently involved at higher levels, be prepared to come out of your comfort zone. Take the risk! We need more female coaches at higher levels of coaching across all sports. Coaching is about creating suitable learning environments for your players to develop in. Coaching is not and should not be about the coach's gender!!! If you're confident in your experience and continuous professional development to date, then make the next step!! 
If you're considering progressing to a higher level in coaching, then you're already half-way there. If you feel that higher-level coaching is the next step in your coaching pathway, then my advice is to go for it. At no stage should being female be a consideration.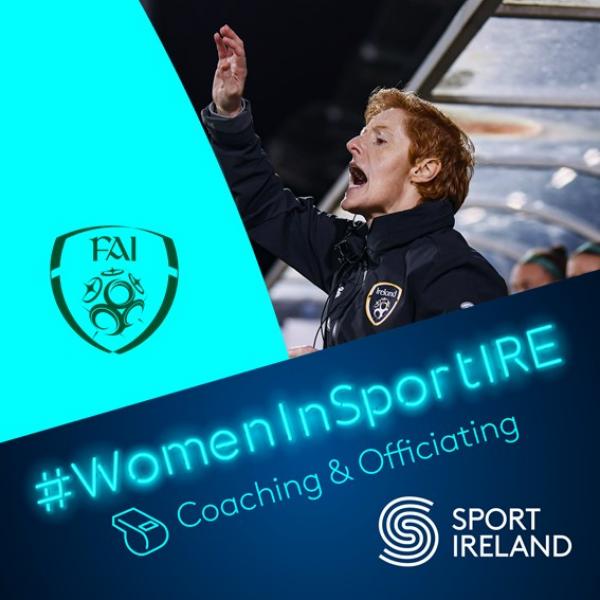 Name:  Sue ronan
Sport: Football
Qualification: UEFA Pro Licence Head Coach Women's U16 National Squad
Sue played for the National Team on 22 occasions before hanging up her boots in 1996.  A few years before that she started her Coach Education, something all the squad were encouraged to do at the time.  In 1994 and while still playing, Sue became manager of the newly formed national U16 Squad, who were being prepared for European competition which would begin at the U18 age-group a few years later.  Upon finishing her career, she became Mick Cooke's assistant with the U18s before taking over the reins of that squad in 2000 when the age-group changed to U19s.  She held that position until 2010 when she was promoted to the role of Head Coach with the Women's National Team following Noel King's departure.
She held that position until stepping down in 2016 to fully concentrate on her developmental role within the FAI which she was doing alongside her national team role.  Sue has since returned to coaching and is now Head Coach of the national U16 Squad.  A big area of focus for Sue is to provide as many opportunities as possible to enable females move up the coach education ladder and ultimately into coaching positions.  As a result of the experience Sue has across the different areas of the game, both UEFA & FIFA use her as one of their experts at various workshops and courses.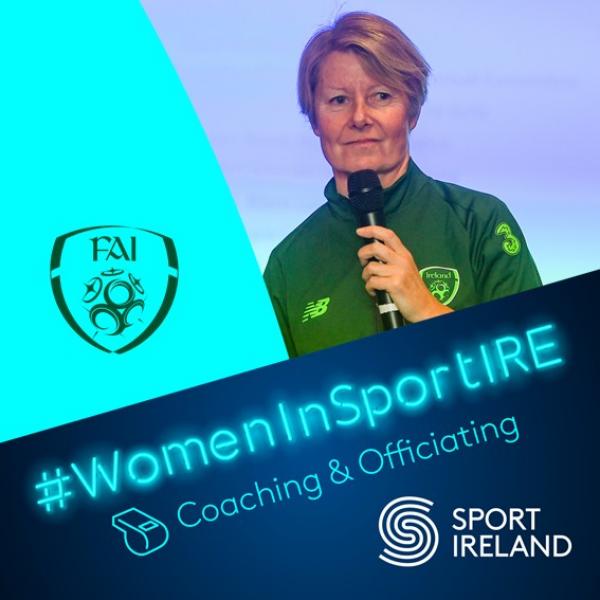 Name:  Pearl Slattery
Sport: Football
Qualification: UEFA A Licence , Assistant Coach National Women's U17 Squad
 
Pearl started her playing career with Fatima Boys where she played for 8 years from 1996-2004 before moving to Templeogue United where she spent the next 10 years.  During her time with Templeogue Pearl represented Leinster on a number of occasions at the Gaynor Cup, the prestigious tournament for players in Ireland.  She then spent two years at St. Catherine's F.C before joining Raheny United in 2010 – Raheny then joined with Shelbourne FC where Pearl still plays to this day.  
Pearl began her coaching career in 2014 in our Emerging Talent Programme where she still coaches our young players.  She also coaches the U16s at her club Shelbourne and last year became James Scott Assistant with our WU17s National Squad.
 
"Don't expect to know everything because no coach ever will! We are constantly learning every day. Always try to learn from the coaches around you regardless of what stage you are at on your coaching journey. Believe in yourself, and always be true to you and the coach you want to be."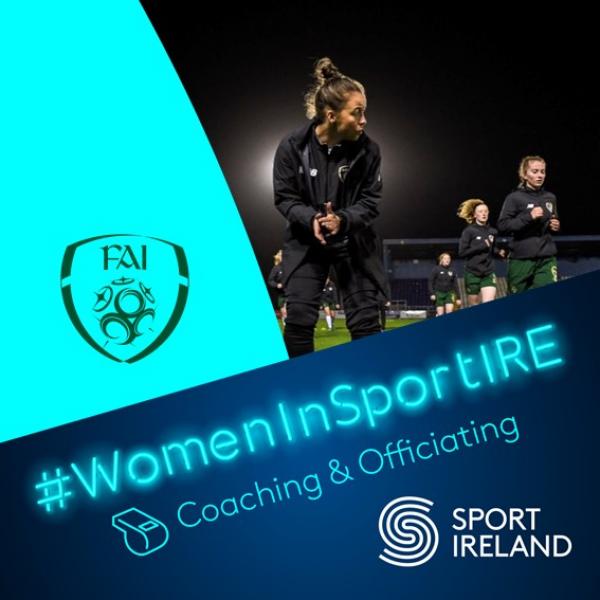 Name:  Vera pauw
Sport: Football
Qualification: UEFA Pro Licence,  Head Coach Women's National Team
Vera has represented the Netherlands 89 times over a 15 year period from 1983-1998.  She was the first Dutch player to play professionally abroad when she joined Italian Team – CF Modena – in 1988.  Vera took up the position of Head Coach and Technical Director with the Scotland Women's National Team  and left there in 2004 to take up a similar role with her home country, where she led them to the semi-final of the European Championships in Finland 2009.  She stepped down in 2010 and became the Technical Director in Russia from 2010-2012 during which she time she took on the position of Head Coach with the Women's National Team on an interim basis.   Vera has also managed the South African women's national team, guiding them to the Olympics in 2016.  Then followed a short spell with Houston Dash in the US Women's League in which the team broke all records - points and stats. 
Vera took up the reins as Head Coach with the Republic of Ireland Women's National Team in October 2019. It is hoped the huge experience Vera brings with her will see the squad qualify for the finals of a major tournament for the first time ever and to date they sit well placed in their qualifying group to achieve that target. 
Name:  Sharon Boyle
Sport: Football
Qualification: UEFA Elite Youth A Licence,  Head Coach, Shelbourne Women's U17 National League Team
Sharon has had a very distinguished playing career, played at the highest level for both club and country.  She made her debut for Ireland in 1991 and over the following 19 years, represented her country 60 times scoring 11 goals, not a bad record for a defender.  Upon hanging up her boots, Sharon immediately went into coaching becoming Noel King's assistant with the National Women's U17 Squad.  That team won an historic silver medal in Europe and reached the quarter-finals of the World Cup where they narrowly lost to eventual winners Japan.
Since then Sharon has gone from strength to strength as a coach, becoming Assistant with the Women's U19s before being appointed Head Coach with the U16s National Squad.  Sharon stepped down from that role after 3 seasons for a much earned break, but is now back on the pitch as Head Coach with Shelbourne in our U17 National League.  The experience Sharon can give to these young players will prove invaluable for their further development.
To a new Coach - surround yourself with good people who can help you develop and learn, who want you to succeed  as a new coach. To a Coach looking to progress to the higher level - you will need to work hard from the start don't be afraid to ask for help, there will be many highs and lows you will experience but it will be all worth it when you get there in the end.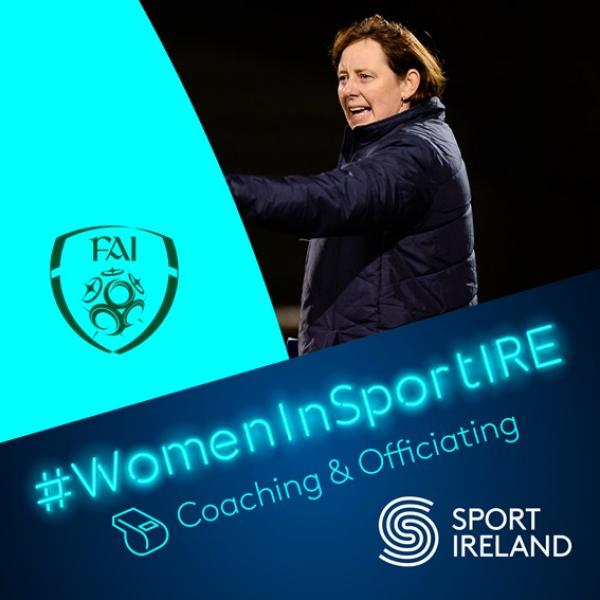 For more information on the FAI and Women in Sport, visit their website or if you are interested in becoming a coach email women@fai.ie