Despite not engaging in sport since the age of 16, Michelle Cummins has now run two Dublin City Marathons and clocked up numerous 5k, 10k and half marathon events.
Michelle (42) who lives in Navan, Co Meath, with sons Ryan (10) and Daniel (9), said she felt the need to reclaim her identity in 2015. "When my children were babies it was hard work on my own, cooped up all day with no-one to talk to," said Michelle.
"One of the boys might be teething, another sick. There were hospital appointments and all the things you have to do. I had cabin fever and was being pulled in every direction. My life had completely stopped. I clung to the boys as I felt without them, I had nothing".
"By 2015, I realised I was not setting an example to my sons. My weight was becoming a health issue. Ultimately, I would not be around for them if things carried on as they were". 
"I did not want my kids to say, 'here's my mam, she does nothing.' I was depressed. I had no self-esteem and did not like the way I looked. I had to do something about it. I knew that if I did not, I was going to be sitting at home on my own whilst the boys got on with their own lives. The outlook was bleak."
Michelle's journey to a new life began with a decision to join a Couch to 5K programme, run by Meath Local Sports Partnership, and get involved with a running group for parents at the local St Oliver's Primary School.
"I said to myself 'what have I got to lose? If I take off, great, if I do not, whatever.' After three weeks of walking and jogging, I was really struggling. I remember saying to the coach, Mags Bellew, 'I can't do this.'
"Other women were ahead of me. I wasn't confident. I was very slow and constantly putting myself down. "But Mags told me I could do it if I worked at my own pace. I needed to learn that. Everybody has a different level.
"So I gave it another shot the following week. Mags ran alongside me saying 'you see, it's not too bad, we will only go so far today.'"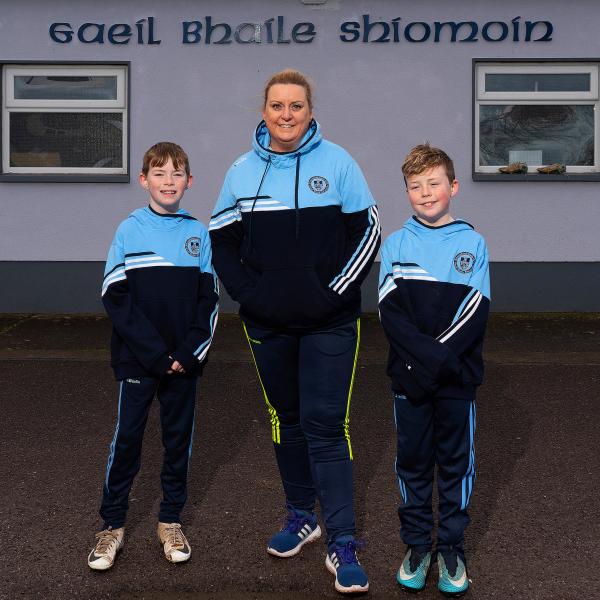 After eight weeks Michelle completed 5K, a source of immense achievement for her and great delight for Ryan and Daniel.
"I had no idea as to how I was going to do that and I still have no idea as to how I did. But I will never forget the boys cheering me on at the finish. It was a huge achievement for me."
But Michelle's road back to health and happiness had only started, and her story stands as a wonderful example of what can be achieved. Setting goals, she first joined the gym at her local GAA club, Simonstown GFC, started fitness classes and decided to do a 10K.
"I would go out training with groups, but not run with them. I do everything at my own pace." Her approach paid off with the completion of the 10K, so Michelle decided to prepare for the Bohermeen Half Marathon, held in County Meath in March 2017.
My goal every morning was to tip away at training. I would  drop the boys to school and go for a run. And even though my confidence dipped, and I got low again, the St Oliver's girls and women at Simonstown gave me great encouragement.
"My goal every morning was to tip away at training. I would  drop the boys to school and go for a run. And even though my confidence dipped, and I got low again, the St Oliver's girls and women at Simonstown gave me great encouragement. "I finished last, but I had already signed up for the Dublin City Marathon in October."
Michelle's bold move was vindicated when she crossed the finishing line. "I had goose bumps the whole way around, it was amazing. Once I have a goal and a purpose, I am happy. I did it for my sister Louise, who has multiple sclerosis."
 By now Michelle, Ryan and Daniel were embedded at Simonstown. Her first marathon coincided with the club winning its second senior county football title.
"I got involved with the club through neighbours. We were all on an incredible high that day.
"You have to recognise the value of sport in the life of a child and there is always something happening for us at Simonstown. It's a club which gives a lot back to people who support it."
As well as raising funds for the club, Michelle is Covid compliance officer for Daniel's under-9 football group.
"Safety and contentment for children, and peace of mind for parents, is the primary concern. But when boys sign in for training, tying laces and providing gum shields to those who've forgotten is important too."
With another Dublin City Marathon completed in 2019 in aid of suicide prevention group  Sosad, and numerous 5Ks and 10Ks behind her, Michelle says she felt an emotional impact as a result of the Covid lockdown.
"It gave me a real shake. If I don't get out for exercise in the morning, I feel I am not set up for the day. To be out in the fresh air and just have someone say 'hello' is important to me.
"But what I've learned best is that goals are achievable. If you had told me five years ago that I would do what I did, I would have told you that I would give up at some point.
"But there were lots of speed-wobbles and nights I cried myself to sleep because I wasn't achieving what I wanted. Nobody has written a book on how to raise two children on your own, but I've set high targets."