Gaelic football has become a way of life for mother-of-three Tina Golden - even though she has never played the game.
Tina (34) is one of thousands of mothers around Ireland who form the backbone of local sports clubs. 
Standing on a cold, damp and soggy sideline and keeping up with WhatsApp messages is as much as most parents are willing to sign up for, but Tina goes the extra mile.
St John's Volunteers GAA Club is the oldest football club in Wexford Town and its longevity is due to the commitment of its members. According to Tina, team spirit extends far beyond the field. 
"It's that feeling you get, that you are part of something great, a wonderful club," she says.
Four years ago, Tina's son Colm (9) became acutely sick, and after a dash to Wexford General Hospital, was diagnosed with type one diabetes. His condition requires high dependency care and Tina says she and husband Aaron are "on alert all day, every day."
Colm has a special needs assistant at school but Tina needs to be on standby at all times in case his blood sugars fluctuate and she gets the call to come in. She was forced to leave her job as a childcare worker and become a full-time carer.
"I loved my work. I adored working with children," said Tina. "I cried the day I left, but obviously Colm came first. He was young and very sick and needed me."
But just over 18 months ago she was roped into the role of child protection officer with St John's Volunteers. Tina found a way to put her skills to use for the benefit of the club.
Every club needs to keep on top of a whole host of policies, records and vetting procedures, so finding a mother ready to roll up her sleeves and tackle the paperwork was a big win for St John's.
"I missed work, so I really enjoyed getting involved. I like the social side of it as well.
"When I go out to the pitch I see other mothers who have become my friends. We walk laps of the field, so we have a chance to be active too. We chat and I am there when Colm is training in case he needs me. "If his blood sugar drops, his whole body shakes and he needs medical assistance."
After Colm was first diagnosed, Tina was terrified of the risks, but his parents were eager to keep him active. Football is in his genes as his father Aaron, grandfather Leonard and great-grandfather Charlie were all 'Vols men'.
"I just wanted to wrap him up and keep him at home. But you can't do that. You want your child to have a normal life, even if they have a condition such as this.
"The coaches understand he has diabetes, but for that hour he is playing he's the same as any other child." Colm plays with the U-9s and dad Aaron is a coach.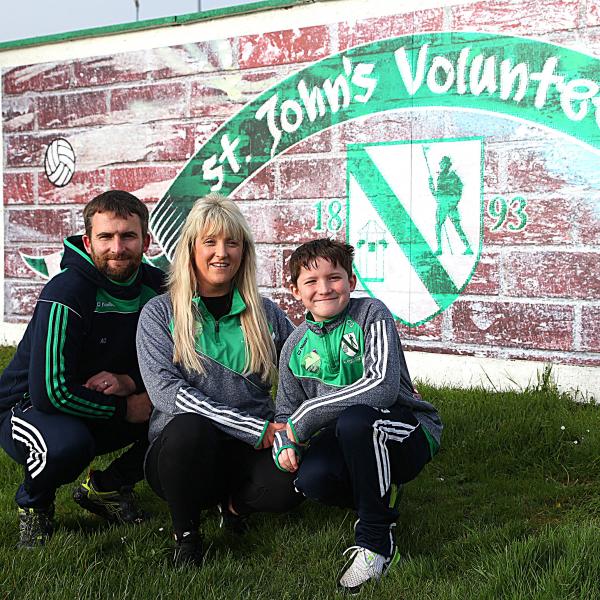 According to Tina, team spirit extends far beyond the field.  "It's that feeling you get, that you are part of something great, a wonderful club," she says.
Tina stands at the gate collecting subs and signing in the children before training. There is tea and coffee for watching parents and club lotto tickets need to be sold each week.
But according to Tina, you get back what you give. She's grateful to club members who took part in a 100-hour virtual relay run to raise vital funds for the Children's Diabetes Clinic at Wexford General Hospital, which Colm attends.
Covid-19 restrictions forced the cancellation of the usual fundraising events. But the men's sides stepped up and overcame social distancing rules by completing a running slot individually, before passing a 'virtual baton' to the next participant.
The event raised over € 9,000, but more importantly raised awareness of the condition.
"During the season, we were out at the pitch almost every night of the week. Everyone there is connected to the club, in one way or another, and it's a nice atmosphere to feel a part of."
Physical and mental health is a top priority at the club and St John's Volunteers was one of the first in the country to embrace the GAA's 'Healthy Clubs Initiative', which saw it presented with an award by Croke Park for its dedication to member wellbeing.
Tina and other mothers prepare fruit and drinks for the children as a healthy snack after training. They also began a recycling initiative in a bid to eliminate single use plastics on the sideline.
"During the season, we were out at the pitch almost every night of the week. Everyone there is connected to the club, in one way or another, and it's a nice atmosphere to feel a part of."