Told she could never play sport after being diagnosed with a visual impairment, Marian is proving her doubters wrong – more than half a century later.
Marian Maloney (66), was consistently told as a child that sport was out of her reach. Decades later, she has turned the tables and is now an accomplished tandem cyclist and blind tennis player.
The Galway woman has always had an uncanny ability to turn adversity into success. Just three years after she was registered as a blind person at the age of 15, Marian went on to become an unusually young certified Irish dance teacher.
Her mother had encouraged her to pursue dancing and pleaded for a concession for Marian to sit the exams to become a registered teacher at 18, five years earlier than applicants were eligible.
She was given a concession to take the written tests orally and passed with flying colours. "It saved my life because there I was, out in the mainstream, and nobody knew I was visually impaired.
"It saved my life because there I was, out in the mainstream, and nobody knew I was visually impaired. People say 'you don't look blind'. They have a stereotypical image of how a blind person looks, but my eyes look healthy."
Her will to overcome the odds strengthened and, gifted with a natural sense of balance from years of Irish dancing, Marian took up tandem cycling in 2008.
The grandmother from Knocknacarra describes the move as life-changing and now has a remarkable bicycle ride from Berlin to Prague – a trek of over 370km – under her belt.
And when she is not out on her tandem, she is displaying her skills on the tennis court. Blind tennis is a new sport to Ireland, but Marian's dream of lifting a racquet harks back to childhood memories of listening to coverage of Wimbledon on television. Like many things in life, she was told this was something she could not do after her eye diagnosis at the age of 12.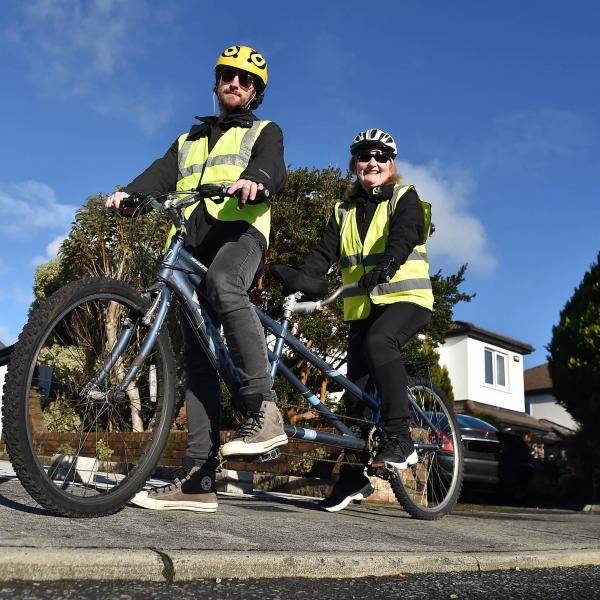 I would say to young people with visual impairment and their parents that it is not the end of the world. There can still be participation in sport, it may just be in a different way. Never say you can't play sport – because you can
Marian was forced to finish school after sixth class due to her condition, and never imagined that decades later, in 2019, she would excel at the game with the Galway Visually Impaired Activity Club, set up in 2006.
Blind tennis is played on a realigned court with special balls equipped with bells which jingle when they bounce.
"It is very new to Ireland. The coach walks you through the court so you get a sense of the distance. You count your steps, so you get an idea of your spatial surroundings, so you're there with your racquet and you're tracking the ball.
"For a long time, I was practising how to serve and track the ball. The first day I played an actual tennis game, I was walking on air afterwards.
"The freedom it gives you is phenomenal. It's something you don't realise until you experience being on the court and playing."
Marian was due to travel to Belfast for a tournament in 2020, but like countless other sporting events, it fell victim to Covid restrictions.
Now, she juggles her love of tennis with another passion – tandem cycling, which she took up with the same Galway club in 2008, after being urged to try it out.
It involves a pilot with good vision cycling at the front of the two-seater bicycle, while the person with a visual impairment, known as the stoker, pedals from the back seat.
Marian went for a "short spin, to try it out around a car park" in 2008, but that turned into a full trek. "It was the first time I had cycled since I was a child. Before he passed away in 1965, my dad bought me a beautiful bike. Thanks to the Irish dancing, I have good posture, and when I started on the tandem, it meant I had good balance".
"But I cannot cycle unless I have a fully sighted person with me. We are very lucky to have fantastic pilots who enable us to participate. The role they play is hugely important."
Marian cycled from Berlin to Prague in a seven-day, marathon ride. She has also cycled in France.
After the disruption caused by the Covid-19 pandemic, she is looking forward to being a part of an initiative between Vision Sports and Cycling Ireland to promote tandem cycling this year.
Eagerly anticipating a jam-packed schedule of postponed sporting events in 2021 is her "lifeline" after a year of isolation.
"I am in the tennis and cycling for the enjoyment I get and the camaraderie of others. I was welcomed with open arms, it was as if I had known these people for years.
"I would say to young people with visual impairment and their parents that it is not the end of the world. There can still be participation in sport, it may just be in a different way. Never say you can't play sport – because you can."