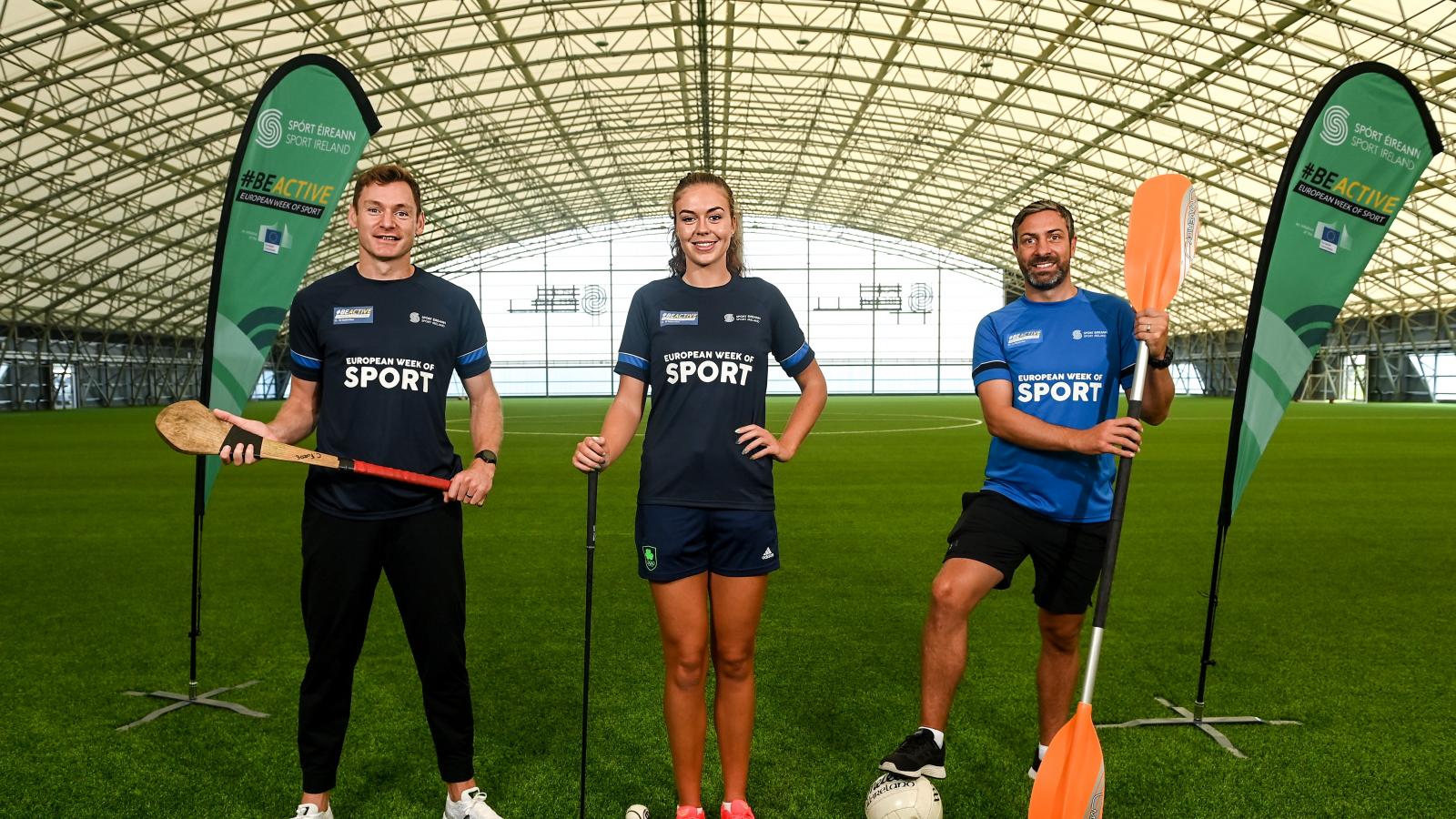 Official Launch of European Week of Sport 2021
Sport Ireland and the European Commission are calling on you, to get out and #BeActive for European Week of Sport 2021 which runs from the 23rd – 30th of September.
European Week of Sport is a week-long celebration of sport that encourages everyone to take part in in some sort of sporting activity no matter what your age, demographic, or ability level is.
Sport Ireland, the National Co-ordinating Body for European Week of Sport in Ireland hopes that this year's event will inspire even more people than previous years to take part in sport. Once again in 2021, Sport Ireland is supporting multiple flagship as well as local events, run by the Network of Local Sports Partnerships.
Commenting on European Week of Sport, Chief Executive of Sport Ireland, John Treacy said "European Week of Sport is our yearly reminder to try and make sport and physical activity a healthy habit in our lives, a part of our daily routine. Each year the National Governing Bodies and Network of Local Sports Partnerships host hundreds of events, locally and nationally. I encourage everyone to try at least one event, either virtually or in person in accordance with the current guidelines. Sport has the power to bring us joy, let's celebrate it this European Week of Sport".
Olympians and fitness advocates David Gillick, Eimear Lambe, and Kenneth Egan were on hand to launch European Week of Sport.
Eimear has just returned from Tokyo where she won a bronze medal in spectacular fashion as part of the women's four team and is really looking forward to the week:
"I am delighted to be involved in the launch of European Week of Sport.  Participation in sport for people of all ages and demographics is something I feel really passionate about. I think sport is about more than just physical fitness, it's about friendship, confidence, happiness, and much more. The benefits really are endless."
A European Commission led initiative; European Week of Sport aims to increase the level of participation in sport and physical activity across the European Union. The Week aims to tackle the inactivity crisis and reduce obesity levels by encouraging Europeans to embrace a healthier and more active lifestyle.
The week is for everyone, regardless of age, background, or fitness level. By bringing awareness to the fact that an active lifestyle is for everyone, European Week of Sport aims to act as a springboard in to being more active. In 2020, an estimated 700,000 people took part in over 535 in person and virtual events in Ireland.
European Week of Sport ambassador and Olympian David Gillick said – "This really is a great initiative that is promoting sports participation in communities all across Ireland. What I really hope to see during European Week of Sport is that people of all abilities get out and try a new sport that they might never have done before. For me, fitness should always be fun, so go out and try as many sports as possible and when you find something that you enjoy, keep doing it!"
Local Sports Partnerships and National Governing Bodies will be running events all across the country and they are encouraging you to find something near you and get involved. LSP's undertake a wide range of initiatives with the aim of increasing sport and physical activity participation levels in the local community. Working with trusted professionals and valued volunteers LSP's engage communities across the county to deliver inclusive, impactful and sustainable opportunities tailored to local needs.
For more information on what events are happening running in your area and how to get involved visit –  www.sportireland.ie/europeanweekofsport
Olympian and European Week of Sport ambassador Kenneth Egan sees the benefits of getting involved, especially from a mental health point of view:
"Sport for me, has always been an amazing outlet to express myself, meet people, and have fun. I see the benefits of it every day in my local community where peoples' mental health is improved dramatically by simply getting out and getting active. I would encourage everyone to check out what events are going on in their area this European Week of Sport and even try out something new!"