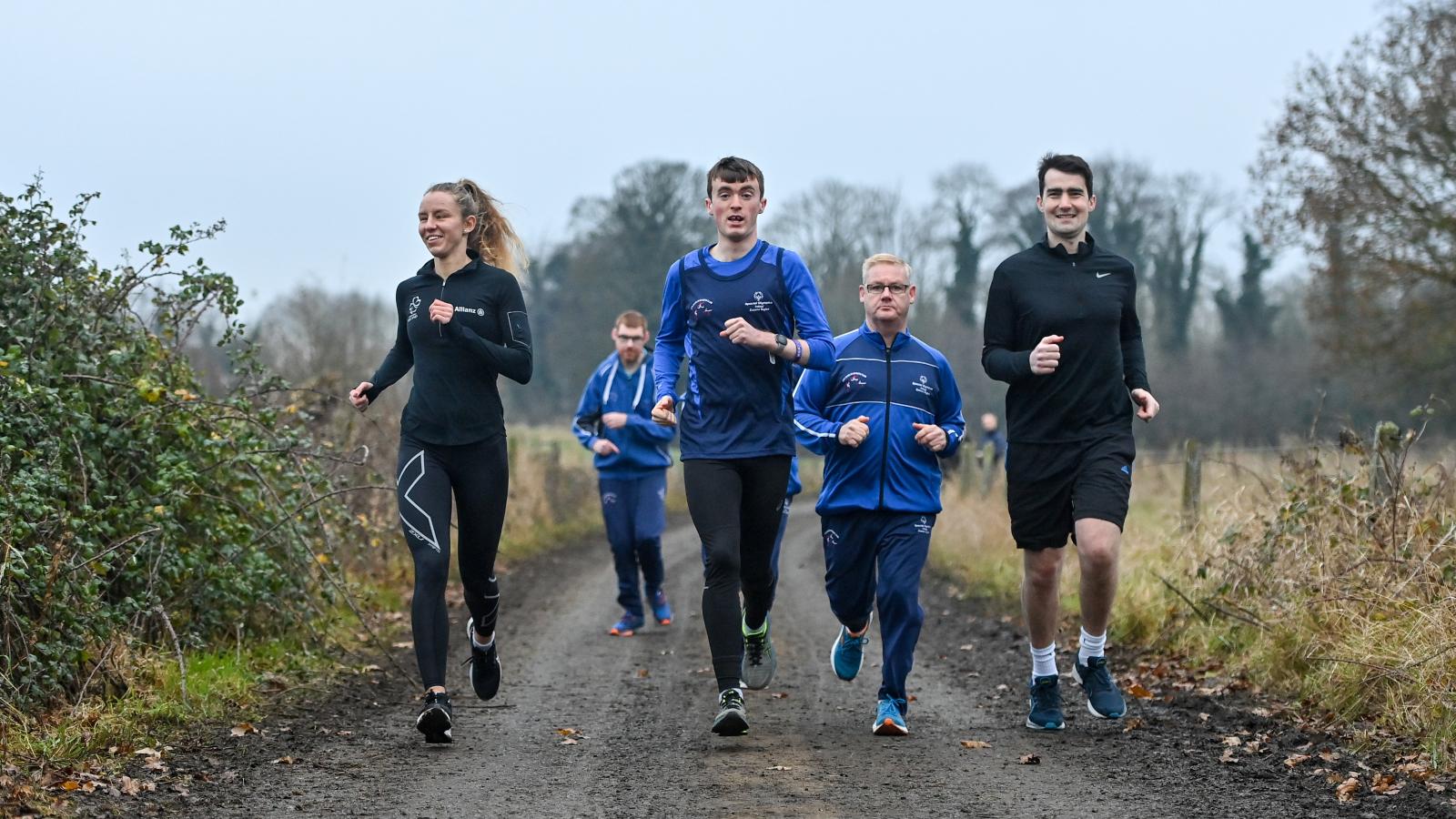 'Winter Initiative' launched to kickstart physical activity and exercise for new year
More than 750 events and activities by national sports bodies, local sports partnerships and clubs in towns and communities all over the country

Minister Jack Chambers urges people of all ages and abilities to take up a new sport
A major new national campaign has been launched to get as many people as possible out exercising and participating in physical activity this year.
The Sport Ireland 'Winter Initiative' calls on women, men, children, grandparents, cousins, neighbours, friends, work colleagues, aspiring sports stars and those who haven't yet 'got going' in 2022 to get out walking, running, cycling or participating in some form of physical activity.
A key focus of the initiative is to help clubs, organisations, gyms and sport & leisure centres bounce back from the challenges placed on them by the covid pandemic by ensuring people renew and reactivate their memberships and get back playing, training and exercising.
And with over 750 events and activities planned across the country - including opening the Sport Ireland Campus up for 'give it a try' events - there is a specific focusing on encouraging people to try their hand at a new sport they may not have experienced before.
Speaking as he launched the Winter Initiative, Minister Jack Chambers said: "As we settle into the New Year and as we move beyond the Omicron wave, there has never been a better time to get out exercising with family, friends, neighbours or work colleagues.
"We know the impact the pandemic has placed on the sports system, with grassroots clubs and organisations among the most impacted. A key aim of the Winter Initiative is to support clubs, gyms and sports centres up and down the country by giving more people the extra incentive to renew their club membership or pay that gym fee. Or even just go for a walk in your local community to get out and get active again this January."
Sport Ireland CEO Una May commented: "The Winter Initiative is a reminder to try and make sport and physical activity a healthy habit in our lives and part of our daily routine. Each year the National Governing Bodies and Network of Local Sports Partnerships host hundreds of events, locally and nationally. I encourage everyone to try at least one event, either virtually or in person in accordance with the current guidelines."
A full list of all the events and activities planned all-around the country that people can get involved in is available on the Sport Ireland website at https://www.sportireland.ie/winter-initiative
Some highlights include:
Sign up for a free trial of the Sport Academies and Fitness classes at Sport Ireland Campus as part of the 'Come and Try Winter Initiative'. Get the family together and try different sports and activities with both kids and adult classes available over the next four weeks. 

Swim Ireland Open Water Programmes for all ages and abilities are available across Ireland. Whether your goal is swimming out to that buoy, or improve technique, confidence, and skills, or even just join a regular swimming group, try the Open Water Programme to get active this winter.

This winter Cork Local Sports Partnership has created a range of programmes across various sports with the sole objective of allowing women to try out new ways of staying active together. Collaborating with different National Governing Bodies, these courses range from Women's Social Soccer Programme and Women's Social Table Tennis, which focus on the more social element of getting active, to beginner courses like Women's Try Tennis Programme and Women's StartBox Programme.

Ireland Lights Up encourages GAA clubs across the 32 counties to turn on their floodlights and open their walking tracks to enable their local communities to come together to walk and talk in a safe environment during the long dark evenings of winter. Participating clubs will open their gates on any or all evenings for the duration of the campaign from Wednesday 12th January to Wednesday 2nd March 2022

https://www.getirelandwalking.ie/irelandlightsup/

Swim Ireland Community Programme -  the aim of this initiative is for Swim Ireland to collaborate with other sporting entities that represent hard to reach demographics, including blind and visually impaired people through collaboration with Vision Sports Ireland, and asylum seekers and refugees through collaboration with 'The Sanctuary Runners'.
The Winter Initiative is a key commitment in the recently launched Sports Action Plan which outlines 40 separate action points to increase physical participation rates to 60% of the total population by 2027. Latest figures from the Irish Sports Monitor show that participation levels fell to 35% during the pandemic before bouncing back partially to 43%.
The Winter Initiative will include a major social media campaign by Sport Ireland to encourage and promote exercise and participation in physical activity for the coming weeks and months.
Local clubs and groups are also encouraged to post and advertise their events and activities online to spread the word about the Winter Initiative and encourage new people to try out different sports which they may have felt were outside their comfort zone before now.