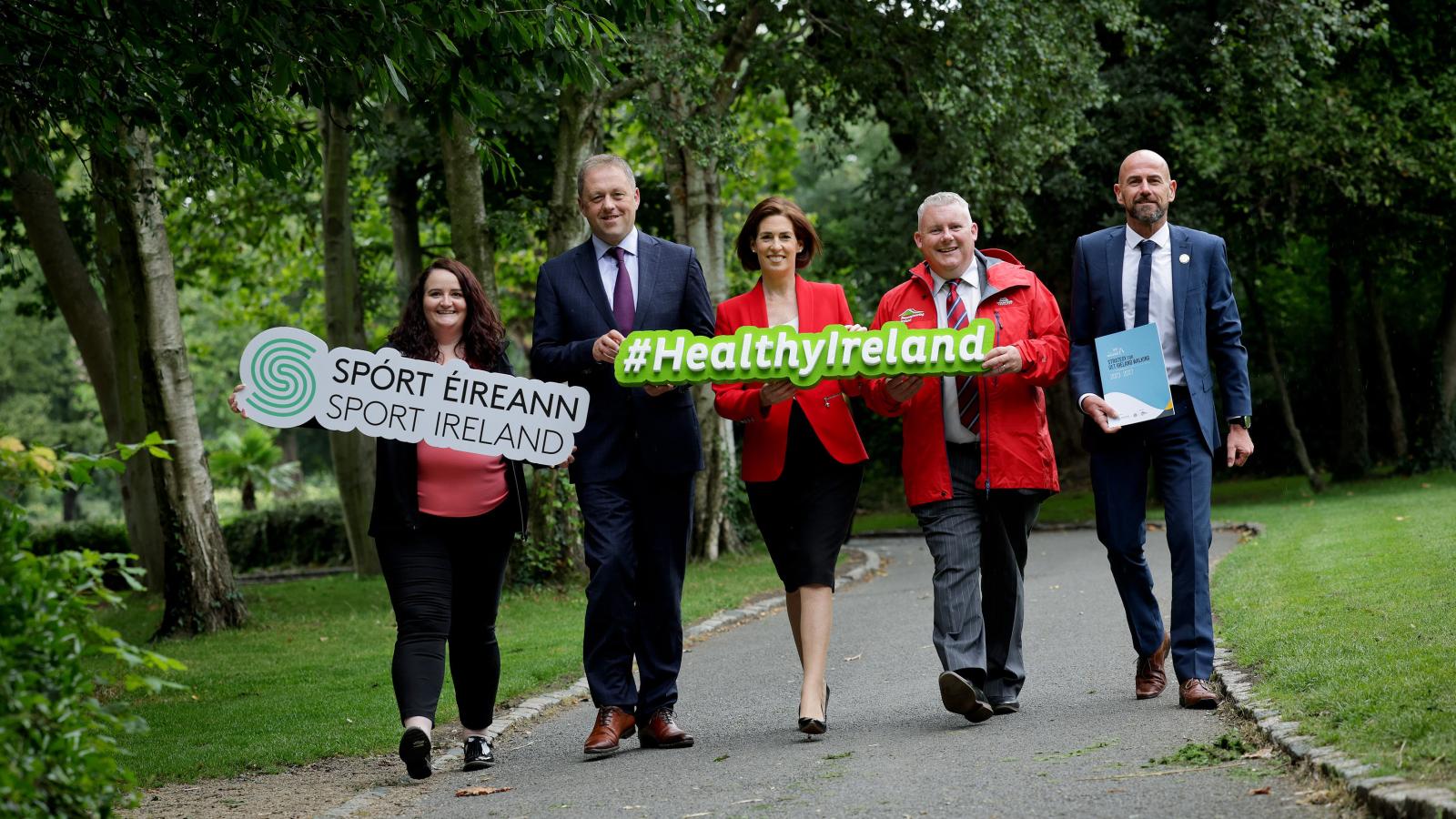 Ministers Naughton and Byrne launch Get Ireland Walking strategy and announce €1.46m in additional funding for 2023
The Minister for Public Health, Wellbeing and the National Drugs Strategy, Hildegarde Naughton TD, and the Minister for Sport and Physical Education, Thomas Byrne TD, have today launched the Get Ireland Walking strategy 2023-2027 and announced Healthy Ireland funding of €1.46m to Sport Ireland for 2023.
Get Ireland Walking was established in 2013 with the support of Healthy Ireland and Sport Ireland, with the objective of supporting and unifying the efforts of the range of actors involved in the promotion of walking in Ireland. 
The new Get Ireland Walking strategy builds on the work completed over the last 10 years and, guided by international best practice, sets out an ambitious set of objectives for the next four years centred around a collaborative, partnership approach.
Speaking at the launch of the Strategy, Minister Naughton announced a special funding allocation for Sport Ireland of €1,460,246 from the Healthy Ireland Fund for a range of targeted initiatives promoting physical activity during 2023 including Get Ireland Walking.
Minister Naughton said:
"The promotion of physical activity is one of my priorities as Minister for Public Health and Wellbeing. I am very pleased to announce this significant funding, which will support a wide range of projects and programmes designed to help people living in all communities to become more active, more often.
"Sport Ireland has been a strong partner of the health and wellbeing objectives of both Healthy Ireland and our national sports policies. There are clear synergies from working with the national governing bodies to support all physical activity including walking, running, swimming and cycling.
"The collaborative approach set out in the Get Ireland Walking strategy will help deliver a wide range of initiatives to support physical activity from a health and wellbeing perspective, enabling people to live healthier lives. The promotion of physical activity is one of the cornerstones of the Healthy Ireland initiative, given its capacity to help people to live healthier lifestyles and to reduce the onset or manage the impacts of chronic conditions."
Minister Byrne welcomed the dedicated additional funding from Healthy Ireland and especially the partnership ethos that it illustrates.
Minister Byrne said:
"Sport is not just about competition and winning, it's about so much more. Sport has multiple benefits, not least its overwhelmingly positive impact on an individual's personal physical health and mental wellbeing. I believe that it is important for all Government Departments and Agencies, with an interest in promoting physically active lifestyles, to work together and collaborate more closely than ever before.
"The funding being announced today by my colleague, Minister Naughton, is an example of such collaboration in action, involving our two Departments, Sport Ireland and the HSE. This funding complements the continued investment that Sport Ireland makes in promoting grassroots or recreational sporting activities across over 60 different sports, including walking.  Walking is one of the popular forms of exercise in Ireland and this additional funding is most welcome."
Minister Naughton acknowledged the strong work carried out to date by Get Ireland Walking, adding:
"People walk for a wide range of reasons, including for exercise, for transport, as a social activity or to get closer to nature. Whether it is through lighting up sports grounds to provide a safe setting as our evenings get darker promoting walking to schools, or highlighting the health benefits of walking, it is in all of our interests to work together. Both of our Departments are also working on additional supports for the Strategy's objectives, including the successor to our National Physical Activity Plan and the forthcoming National Digital Database for Sport and Recreation Activities.
CEO of Sport Ireland Dr Una May said:
"According to Sport Ireland's latest research, the Irish Sports Monitor 2022, recreational walking is the most popular form of physical activity in the country with 2.77 million people actively participating.  Recreational Walking is now more widespread than it was before the pandemic and the new Get Ireland Walking strategy will allow us to capitalise on this increased interest.
"I look forward to seeing the strategy in action through innovative and community-based programmes delivered through Local Sports Partnerships and National Governing Bodies. I also welcome the new round of Healthy Ireland funding which further strengthens the collaborative relationships between Government Departments and Sport Ireland."
Get Ireland Walking Strategy 2023-2027
Get Ireland Walking is an initiative of Sport Ireland, funded by Healthy Ireland and supported by a wide range of stakeholders including Mountaineering Ireland, Irish Heart, the Health Service Executive, Age and Opportunity, the Gaelic Athletic Association, Ireland Active and Arthritis Ireland.  It was established in 2013 with the overall objective of maximising the number of people walking in Ireland, for health, wellbeing and fitness. The Get Ireland Walking Strategy 2023-2027 can be found here. 
The Get Ireland Walking Strategy will use systems-based approaches to strengthen policy, leadership and governance, to build better integrated systems at local and national level, and to coordinate advocacy and the promotion of walking across Ireland.
Sport Ireland
The Department of Health works with Sport Ireland to support the delivery of a range of activities targeting physical activity and health. The funding of €1,460,246 in 2023 will support the national programmes of Get Ireland Walking, Running, Swimming and Cycling, Special Olympics, GAA Healthy Clubs, the development of a National Outdoor Amenities Database, the Irish Physical Activity Research Collaboration, the Children's Sport and Physical Activity Study, and events held during the European Week of Sport and Physical Activity.
Monitoring of this expenditure will be overseen jointly by Sport Ireland, Healthy Ireland and the Department of Tourism, Culture, Arts, Gaeltacht, Sport and Media.