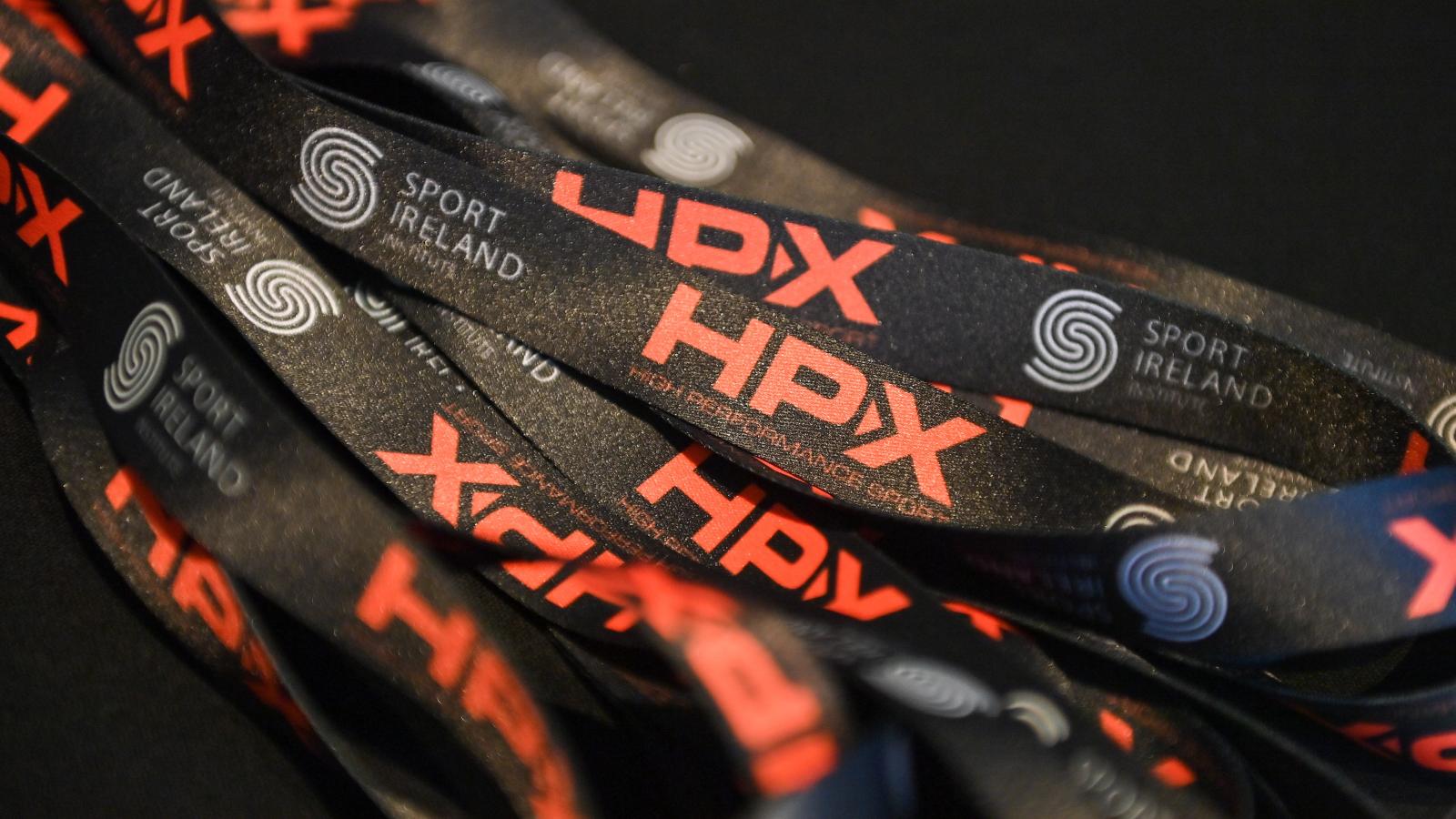 High Performance Sport Community Gather in Wicklow for Sport Ireland Institute's HPX 2023
Six Higher Education Institutions awarded Accreditation for excellence in dual career support to high performance student athletes

OFI partner with HPX 2023 as key 'Paris Ready' event for Team Ireland's support team
Over 220 delegates gathered today at Tulfarris Hotel & Golf Resort, Blessington, for HPX 2023 Paris Ready Conference, Sport Ireland Institute's flagship professional development and learning event for high performance professionals who will impact Team Ireland's performance at the Paris 2024 Olympic & Paralympic Games.   This biannual event is organised to bring the CEO's, Performance Directors, Coaches and Sport Science & Medical Practitioners together as a community for two days to exchange knowledge and insights to drive the performance of Irish athletes on the global stage.
This year's event has attracted a host of speakers from within the Irish system such as David Nucifora & Dr. Jon Rudd, Performance Directors of the IRFU and Swim Ireland respectively and Neasa Russell, Sport Director with Paralympics Ireland and Team Ireland Chef de Mission for the Paris 2024 Paralympics.  International keynote speakers include:
Professor Anne Marte Pensgaard, Norwegian School of Sport Sciences/Norwegian Olympic Training Center;

Maurits Hendriks, Head of Sport Ajax FC;

Bertrand Daille, Head of Performance INSEP, France;

Thierry Dumaine Assistant Head of Performance INSEP, France.
Opening the event, Dr. Úna May, CEO of Sport Ireland, said: "HPX is the our  high performance event bringing the community together to collaboratively learn and share insights in preparation for Ireland's quest on the global stage.  The value of bringing all athlete support personnel together is a real advantage in Ireland and supports the wider Team Ireland ethos that transfers to the Olympic and Paralympic Games.  As we collectively prepare for Paris 2024, this event is an important milestone for the Irish high performance system."
Director of Sport Ireland Institute, Liam Harbison, added: "HPX 2023 is a key plank of the Sport Ireland Institute's capability & expertise strategy which supports the professional development of key stakeholders in the high performance system.   Utilising our established communities of practice model with CEO's, performance directors, coaches, sport science and medical practitioners, HPX is our biannual linking of each group together to share insights from high performance expertise in Ireland and from abroad.  The quality of the speakers this year is exceptional and we look forward to a great learning event."
Commenting on the importance of HPX 2023 Paris Ready, OFI Team Ireland Chef de Mission, Gavin Noble stated: "HPX 2023 provides the perfect opportunity to communicate with all our high performance stakeholders, highlighting our progress and fine-tune elements crucial for elevating performances and the experience of Paris 2024. We have been working towards the event as a pivotal deadline in our planning and we are looking forward to sharing and learning together over the two days."
Six higher education institutions were awarded with Accreditation for Student Athlete Support (ASAS) acknowledging their excellence in dual career support for their student athletes.  Full ASAS Awards for 2024-2026 were presented by Dr. Úna May and Liam Harbison to Queens University Belfast, Setanta College, Technological University Dublin, University College Cork and University of Limerick.
ASAS is based on providing equal opportunity to all high-performing student-athletes to combine sporand education and is grounded in the right to education. The accreditation outlines clear dual career criteria that third-level institutes must have in order to receive the accreditation. The accreditation aims to identify and establish a network of accredited institutions who support elite athletes to achieve dual career excellence by applying guiding principles.
Receiving the award on behalf of University of Limerick, Neasa O'Donnell said: "We are to have UL reaccredited for the next 3 years. The award and support and support from Sport Ireland is significant in the overall context of sport in UL and the role we have in supporting our dual career student-athletes. This recognition and Q-mark, together with our UL High Performance Athlete Policy, ensures the continued success of our programme, as UL Senior Management are listening, watching and supporting our work, while we strive to deliver the best service and a positive experience for our HP students, in a well-structured academic and sporting environment."
First time recipients of the Affiliate Award were South East Technological University who were represented by Michael Walker, SETU Dual Careers Lead Coordinator.  He stated: "South East Technological University are honoured to be recognised by Sport Ireland as a University that supports students athletes to achieve their dual ambition of academic and sporting excellence.  The Accreditation for Student Athlete Support (ASAS) award celebrates the contributions of our professional and academic staff across all departments in our multi campus university who strive to provide a student centred approach offering flexibility while supporting our student athletes competing at the highest level in their sport.
We look forward to growing our new found partnership with the Sport Ireland Institute into the future supporting our high performing athletes throughout their journey through South East Technological University."