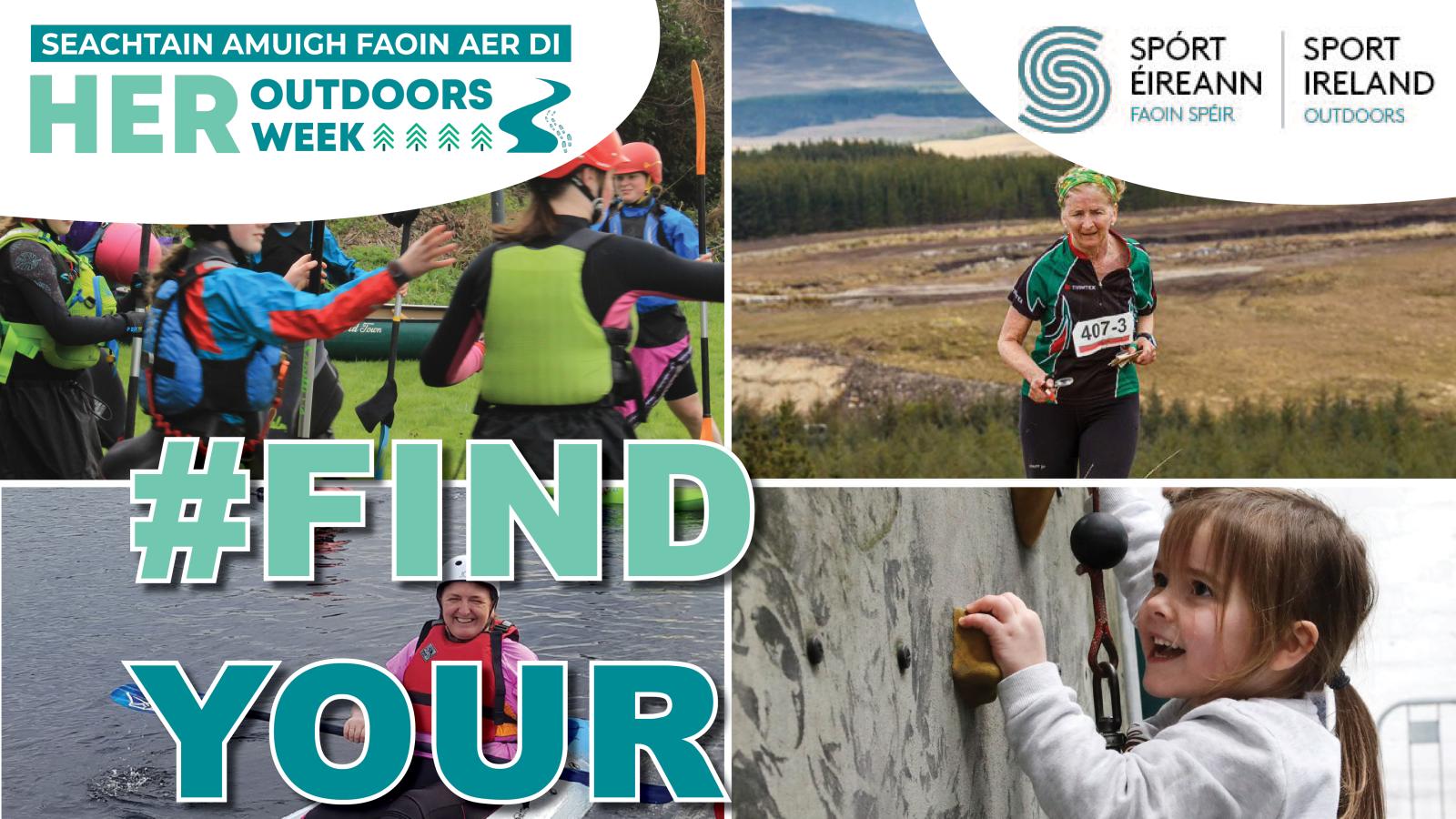 HER Outdoors Week Returns, Encouraging Women and Girls to get Outside and Embrace the Outdoors
Sport Ireland, together with the network of Local Sports Partnerships and outdoor NGBs has come together to help facilitate and run activities for HER Outdoors Week from August 8th-14th.
Following the huge success of last year's event, Sport Ireland is running HER Outdoors Week 2022 taking place from August 8th to 14th. Started this week, the event will inspire, educate, and encourage more females to get out into the great outdoors and experience everything the outdoors has to offer whilst being physically active. HER Outdoors Week looks to celebrate the benefits of the outdoors, whether it be a simple cycle with your friends or a day of hiking, the initiative aims to encourage women everywhere to plan their adventure, explore the outdoors, and to inspire others to discover.
Sport Ireland expects participation numbers for this year's HER Outdoors Week to increase from 2021. The last two years have seen an increase in opportunities for outdoor activities, with significant support received from the government towards outdoor infrastructure. This support includes the 2022 Outdoor Recreation and Infrastructure Scheme, which emphasises the opportunities for recreational amenities located near rivers, lakes and beaches. It also seeks to support recreational infrastructure that provides an inclusive approach for communities to deliver outlets that support a diverse range of users, including people with disabilities and older adults. Overall funding of €15 million has been announced for this year's scheme. The National Outdoor Recreation Strategy will be launched over the next few months and will bring a new wave of leadership and support to the outdoor sector.
There has been a clear uptake in outdoor sports and activities in Ireland recently, with the 2021 ISM Report showing that about 1.6% (60,000 people) of the Irish population are members of an outdoor sports club, 0.8% (30,000 people) attend outdoor sports events in any given week, and 0.5% (20,000 people) volunteer in outdoor sports in any given week. Sport Ireland has also seen many people rediscover the mental health benefits of being in the outdoors, due to the Covid 19 lockdown and the associated restrictions over the past few years.
Sport Ireland, together with the network of Local Sports Partnerships and outdoor NGBs have come together to help facilitate and run activities throughout HER Outdoors Week which encourages all females to get outdoors and try something different. Events will have a focus on fun, being social, and will be based around small group numbers.
Chief Executive, Sport Ireland, Dr. Una May commented: "Her Outdoors Week is a fantastic initiative that gets people, and in particular, women and girls exercising outdoors for this one week of August. There are a wonderful range of activities and events taking place across the country, giving everyone a chance to try something new. I wish to thank all of the coordinators for putting the events together across Ireland and I look forward to seeing everything in action throughout the week."
Minister of State for the Gaeltacht & Sport, Jack Chambers TD commented: "I am delighted to see HER Outdoors Week being rolled out across the country this coming week. This initiative is to get more females active throughout the week while promoting the outdoor opportunities we have across the country. It is an opportunity to try something new, while getting the benefits of exercising outdoors. I would like to wish everyone well in their activities throughout Her Outdoors Week."
Minister for Tourism, Culture, Arts, Gaeltacht, Sport and Media Catherine Martin TD commented: "This is a wonderful initiative that brings together the benefits of exercise and the beautiful outdoors. Initiatives like these continue to increase participation and activity levels in communities, with events taking place throughout the week, across the country. I encourage all females to take part in any of the Her Outdoors Week activities taking place near you."
For the opportunity to get involved in HER Outdoors Week and to try something new head over to www.sportireland.ie/heroutdoors where you can find more information about how to get involved. Alternatively, check out some of our social pages including Twitter, Facebook, and Instagram - @SportIreland.
Try our challenges and post your photos on social media using the hashtag #FindYourOutdoors and tagging @sportireland".