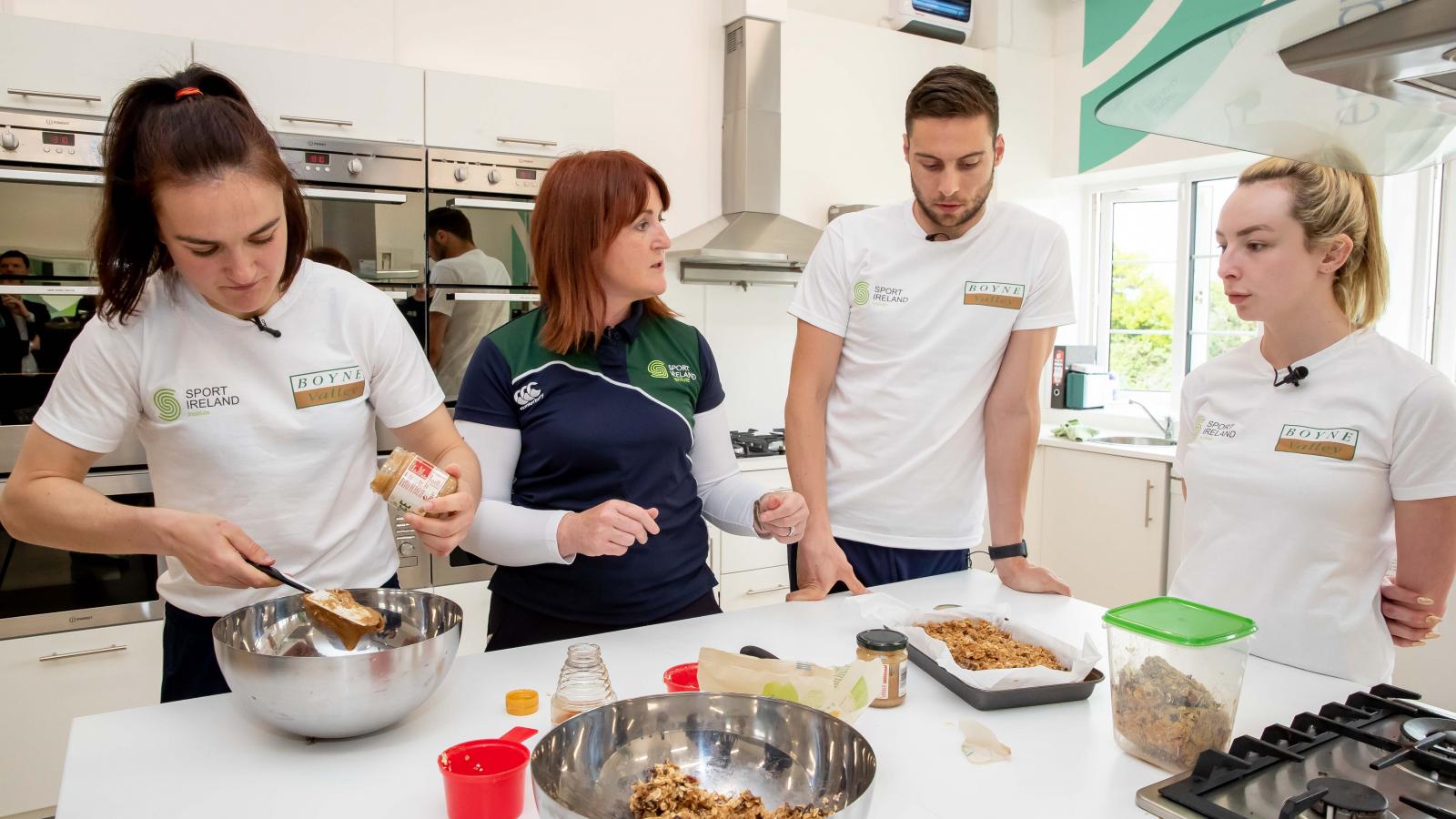 Boyne Valley Group 'Fuelling Irish Sport' in new deal with Sport Ireland Institute
Sport Ireland today signed a partnership agreement with Boyne Valley Group, with the Irish owned company becoming the Official Food Partner to the Sport Ireland Institute.
The new deal will see Boyne Valley Group provide high quality food products from their extensive range of brands to the Sport Ireland Institute to enhance the extensive Performance Nutrition support provided to Ireland's High Performance athletes by the Institute nutrition team. The partnership will help improve nutrition and dietary practices and enhance performance potential by Olympic and Paralympic athletes.
Chief Executive of Sport Ireland, John Treacy, today welcomed the Boyne Valley Group to the Sport Ireland Institute at a special 'Breakfast with a Twist', a breakfast for athletes using an array of Boyne Valley Group products in the Institute's purpose-built performance nutrition kitchen: "This is a very important partnership for the Sport Ireland Institute as we look to best prepare our top international athletes. Boyne Valley Group puts a big emphasis on producing products of the highest quality, ensuring our athletes are receiving only the best as they prepare for and recover from the rigours of high-level competition. I would like to welcome the Boyne Valley Group and very much look forward to the partnership ahead."
Boyne Valley Group, based in Drogheda, is one of Ireland's most iconic companies and is home to over twenty brands, including market leaders such as Boyne Valley Honey, McDonnells, Chivers, Erin Soup, Don Carlos, Homecook, Lakeshore and Lifeforce.
Sorcha Madigan, Strategic Marketing Director, Boyne Valley Group commented: "We are thrilled to partner with Sport Ireland Institute and to come on board as their official food partner. This exciting partnership allows us to be part of the fantastic work undertaken by Sport Ireland to support athletes to succeed in their chosen field. We are proud that our portfolio of brands form part of daily routines and are delighted that we can support these athletes, be it at home or abroad, in their daily training needs. Our partnership is rooted in supporting athletes of the Sport Ireland Institute, to provide high quality, much-loved products to help fuel Irish sport."
Director of the Sport Ireland Institute, Liam Harbison, is looking forward to the benefits this new partnership will bring for Irish athletes
"I welcome the innovative approach to this partnership with our new colleagues at the Boyne Valley Group and look forward to an innovative long term programme of athlete support and product development. This partnership will have tangible benefits for all the athletes that are supported by the Institute team. These include our ability to enhance one-to-one nutrition consultations with on-the-spot product to sample, ensure athletes are sustained with high quality products to fuel for competition and training as well optimal preparation and planning for long haul travel with Boyne Valley Group's bespoke travel pack for athletes designed by our team."