When the pandemic finally diminishes and we can safely return to sport, Geraldine Lavelle wants to go kayaking.
That is not surprising, as the country's re-engagement with exercise and appreciation of the great outdoors has never been greater than in the past year.
But the liberating feeling of floating across water is particularly precious for Sligo Town-based Geraldine (34), because she is a wheelchair user. A life-altering cycling accident in October 2013 left the Snugboro, Co Mayo native paralysed from the chest down.
But that has not diminished her passion for exercise and adventure and since then, she has pushed the boundaries of accessibility to sport for people with disabilities.
Paddle-boarding for wheelchair users, horse-riding, kayaking, hand-cycling and wheelchair basketball are among the sports she has enjoyed over the past seven years.
"When I was in hospital after my accident, I did wonder whether I could take part in sport again, but it was always my thing, so I just had to find ways to stay as active and fit as possible.
"I grew up in the countryside, so being outdoors and enjoying tranquillity is a huge part of me, that mental escape you get from being out in nature."
North West Adventure Tours in Sligo and Mayo Adventure Experience are two companies which have helped her continue to experience outdoor pursuits, including the trendy sport of paddle-boarding.
"The nicest part of kayaking is that I get out of my chair. And paddle-boarding is lovely because I am out on the water, which really feels like freedom.".
"I never thought I would do any adventure activities, because you feel very limited when you are in a chair. But kayaking is really special because not only am I out of my chair, I am in a regular kayak. That's something I really want to get back to, hopefully this summer."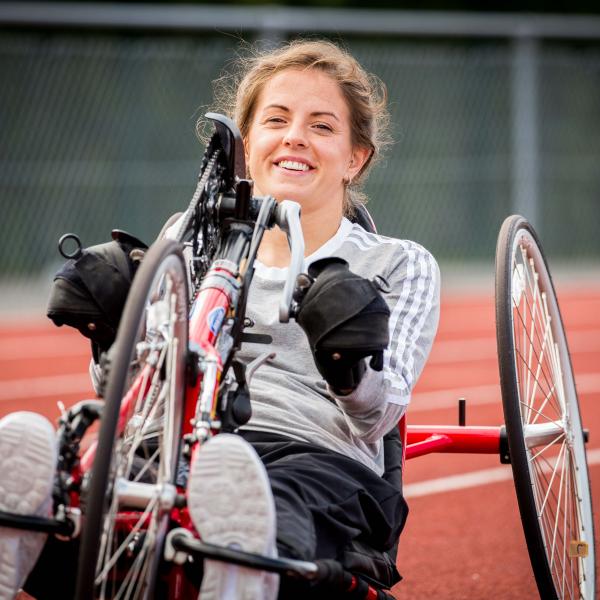 "I never thought I would do any adventure activities, because you feel very limited when you are in a chair. But kayaking is really special because not only am I out of my chair, I am in a regular kayak"
A graduate of NUI Galway, where she gained a first-class master's degree in neuroscience, Geraldine, an assistant lecturer at Sligo IT, has always been sport-mad.
Before her accident she was a competitive kick-boxer, a qualified gym instructor and cyclist, riding before work every morning with races of 60km and 100km under her belt.
Positive and proactive, Geraldine has used her own initiative and the help of others to continue to enjoy sport.
"Mountain paths or going off-road become a distant dream when you first go into a chair because the front wheels can't cope with rough ground or gravel.
"But there are ways around it. I have got an attachment for my wheelchair which enables me to go on bumpier paths, or off-road. Also, people have been so good to me at Sligo IT, helping me hand-cycle around the track in the evenings". 
"The Irish Wheelchair Association has assisted me with transport to go horse riding and Local Sports Partnerships can help with access too. Accessibility is not the issue, though it depends on the number of volunteers. The problem is more often about funding. I was horse riding in Ballymote for a year after my accident. I had never done it before and absolutely loved it. It was so therapeutic. But to progress further I would have needed funding for an adapted saddle". 
"I have not completely given up on that because I really did enjoy it, and I think it is something I will return to at some stage."
More volunteers and funding are always needed for people with disability to take part in sport".
Awareness and education is critical to that improving, and Geraldine, in her work as an assistant lecturer in health promotion, is now contributing valuable first-hand insight.
"We look at healthy interventions for everyone. In my last class, for example, we were examining how football fans could get healthier.  The college has asked me to incorporate my experiences as a wheelchair user, and stories I have heard from others, into the curriculum, which I am very excited about.
"I get to talk to the health promotion officers of the future. So, it is great that I can help them understand the difficulties people can come up against and assist them to design more inclusive programmes, especially in sport."