Fiona Oliver and Miriam Scanlon
Away from the parks, pitches, stadia and school yards where physical activity has all but disappeared, two Limerick women continue to instill the joy of sport and exercise among female prison inmates.
Fiona Oliver (44) and Miriam Scanlon (42) are PE teachers at Limerick prison, where they also instruct 250 male inmates. Both are former school PE teachers and utterly immersed in sport: Fiona played high level women's soccer in the UK, representing Welsh club Barry Town in a Women's FA Cup quarter-final.
Miriam, a Community Games veteran, participated in every sport available to her growing up, including athletics, badminton, basketball, cycling, Gaelic football, hockey, rounders, soccer and tennis.
Together, they offer a unique insight into the role of exercise in the lives of the 40 women prisoners.
It is a universal language, it does not matter what your age or background is," said Miriam.
Fiona knew from her first day at secondary school that she wanted to be a PE teacher. "I really wanted to do what my PE teacher did for me and make a difference for somebody."
Both arrived in their roles with no experience of the prison service, but speak with warm enthusiasm of their work.
"Though they are prisoners, they are our students and we treat them that way," said Fiona. 
"It's a different experience every day," according to Miriam, "but we have a curriculum to follow whilst also looking to keep students involved and their minds and bodies active, given the setting they are in.
"Some can be very interested. Others can have no idea, but we can teach them the basics and try to develop a new interest for them."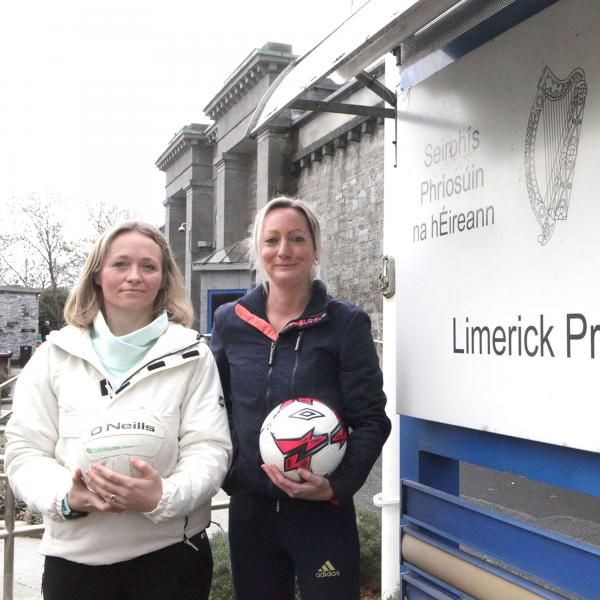 "It (sport) is a universal language, it does not matter what your age or background is"
Under Fiona and Miriam's guidance, some inmates undertake National Council For Exercise and Fitness foundation courses through the University of Limerick, whilst many others have obtained Quality and Qualifications Ireland (QQI) recognition for their work in the health and fitness sphere.
"In this job, there is always someone you can make a difference for, though it may not always be in a sporting context," says Fiona.
"It could be simply informing lifestyle choices or instilling a bit more confidence and self-esteem. When you are in a position to do that, it is tremendous to see it happen.
"We've seen the darker side of things, but I've never lost my love of the job."
Miriam says life-long learning is the priority. "There are classes, gym work and much more. We try to accommodate the needs of prisoners with competitions and coaching courses, also.
"We want to give our students tools which will allow them get physically fit and engage in sport on their release, and maybe do another course."
Both Fiona and Miriam believe there needs to be more emphasis on PE at secondary school level, where physical education teachers can serve as role models for girls and young women.
And while Covid restrictions have proved difficult for both teachers and students, they have continued to manage programmes for inmates.
"Since lockdown I've realised more how hard things can be for them," said Fiona.
"Our students may be adults, but that does not mean their lives have progressed in the same way as ours.
"Many may not have had the nurturing or support you and I might have had. So you have to treat them very differently. Maybe they have had lots of chances, but you still have to be there for them."
According to Fiona, their work is critical to the mental health of inmates.
"We tailor programmes to take into account their needs, as well as having our own curriculum, but some of them are being introduced to exercise for the first time. 
"Mentally and physically, they can be in a bad way. So what we do is very important to them. It gets them out of their cells, it gets them in to a routine, it gets them into the yard or the gym and the many QQI classes on offer."
Though many of the women students have not exercised properly since school, PE, according to Miriam, provides "a release" for them.
"I had no idea what it would be like when I started the job, but we are approachable teachers and the inmates come to our classes to take part and learn.
"We hope we can engage them physically and mentally and enable them through learned skills, knowledge and understanding, to continue with a healthy, active life on release."
Limerick Prison Governor, Mark Kennedy, says the chances of girls vulnerable to criminal conviction ending up in prison are considerably reduced if they continue to be involved in sport after the age of 14.
So, through a number of schemes, Limerick prison has been conscious to promote the participation of women and girls in sport locally.
This has included financial and community service support for a number of clubs in Limerick and Clare, all the while conscious of prisoners' children.
"Women's sport does not get the investment it should in comparison to male sport  and we are very aware that the child of a prisoner is 60% more likely to end up in prison," said Mark.
"Also, the experience of men and women in prison tends to be very different, with women receiving less visits, but they are nevertheless more inclined to contribute to the life of the prison community."