Canoeing Ireland - Coach Profiles
Name: Aisling Smith
Sport: Canoeing
Aisling is the girls coach at Salmon Leap Canoe Club, Leixlip. This group was founded two years ago by Aisling and Karen Caffrey to promote female participation at the club. Since then the female membership in the club and numbers competing in races has increased dramatically. They are the largest and most active girls only training group in the country for sprint and marathon paddling. The group consists of girls from the age of 11 to 18, racing at both national and international competitions. The vision for the group is to continue to grow the number of female members in the club and their presence at Canoe Sprint and Marathon races.
When coaching Aisling draws on her experience of racing both from kayaking and running and believes that sharing your experience is valuable for helping athletes improve and stay motivated. Equally, building a sense of teamwork and encouraging the girls to share their own experiences and work together in an individualised sport is a key factor of  the groups success. 
Always be yourself and coach the way you believe is best. I have found that passion for the sport and its athletes is the best coaching tool I have.
Name: Eileen Murphy
Sport: Kayaking
Qualification: 

Level 5 Sea Skills Proficiency and Level 4 Coach and Tutor for Sea Kayaking
Following on from a successful competitive paddling career, Eilleen worked through the paddling proficiency skills, qualifying as a Level 4 Canoeing Ireland Sea Kayak instructor and Coach Tutor. Throughout her teaching career in Old Bawn Community School in Tallaght, her passion for the outdoors shone and as Director of the Outdoor Education module, she introduced thousands of teens to the joys of hill walking, orienteering and canoeing.
Nowadays, she runs Shearwater Sea Kayaking with her partner Sean Pierce. They deliver Try Sea Kayak, Skills and Coastal Navigation courses in Howth and run expeditions to many of their favourite locations along the west coast.
As a coach, always keep an open, objective mind, don't judge a book by its cover, stay flexible and approachable at all times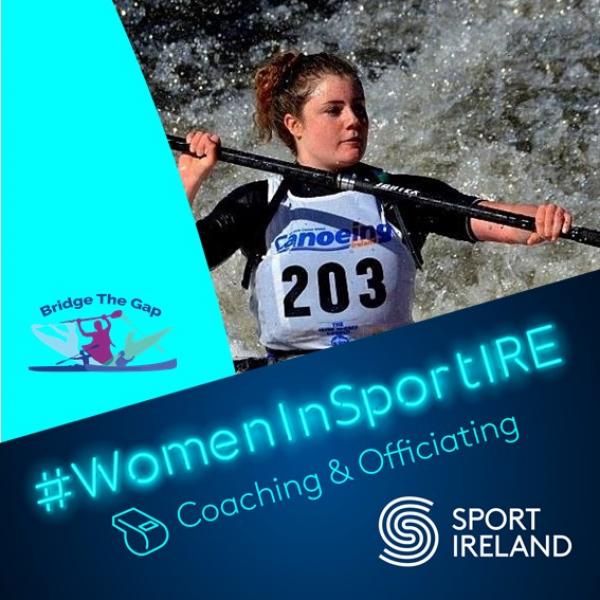 Name: Hannah Craig
Sport: Canoe Slalom
Hannah is an Olympic finalist from London 2012. With an infectious passion for her sport, she initiated and coached a Talent Development Project called "Paddling Beyond 2012". The majority of today's Senior Canoeing Ireland slalom team stem from that programme.
A mother of 2, Hannah is still training full time with the goal of qualifying for Tokyo 2021. She also recently took up a part time role within Canoeing Ireland as Performance Development Coach in canoe slalom with objective of coaching and inspiring future generations of Olympians and building a sustainable performance structure. As one of Canoeing Ireland's Bridge the Gap Ambassadors Hannah plays a key role in attracting and retaining women in to the sport and strongly believes there is a paddle out there for everyone you just have to find it!