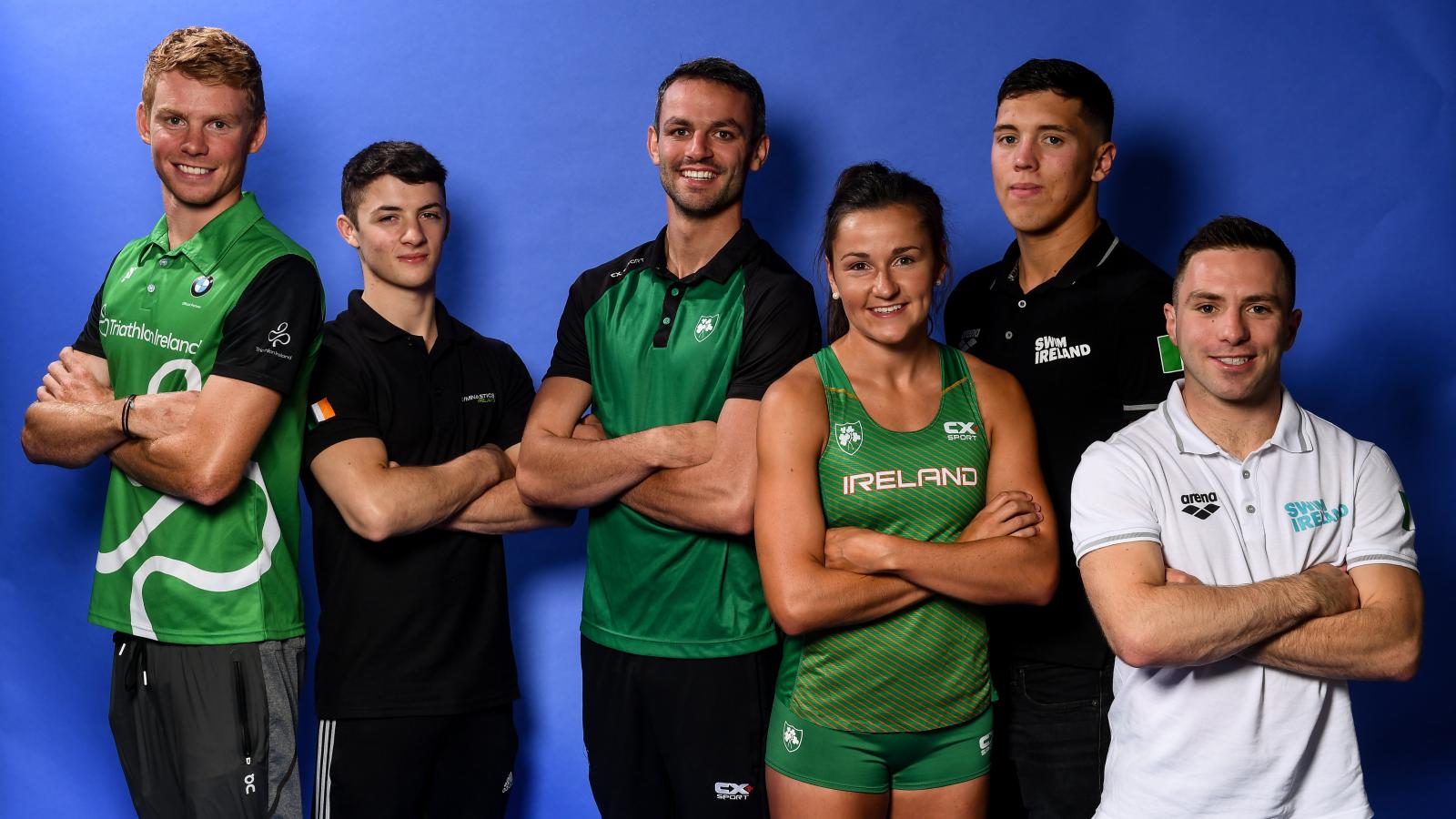 2018 a landmark year for Irish Sport
2018 has been a landmark year for Irish sport, with key advancements across all areas from participation to high performance.
Reflecting on the year, Minister for Transport, Tourism and Sport Shane Ross TD said: "2018 was a great year for Irish sport. Our sportsmen and women once again delivered some wonderful performances at the highest levels in team and individual sports. In particular it was a great year for women's sport, with 44 medals achieved by female athletes across 11 sports at World and European levels. Not only did they lift our hearts and spirits by their performances and achievements during the year, these sportswomen also continue to inspire and encourage thousands of girls and young women throughout Ireland every day to become involved in sport and to stay involved.
"I am pleased to note that the number of women and girls participating in sport is continuing to grow. One of the key objectives in our new National Sports Policy 2018-2027 is to increase the number of women and girls participating in sport and to eliminate the participation gradient between men and women. While the gender gradient, at 4.5%, is narrower now than at any point over the past ten years, I am determined to eliminate it altogether. The Women in Sport programme administered by Sport Ireland is playing an important role in that regard and I have secured an additional €1m for the Women in Sport programme for 2019, bringing the allocation for next year to €2 million.
"I want to congratulate all of our sportspeople on their achievements in 2018 and I wish them all well as they prepare to compete again in 2019."
The Minister of State with responsibility for Sport, Brendan Griffin, TD said: "2018 was another very positive year, not only for the wonderful achievements of our high-level sports people but for Irish sport at all levels. The publication of our National Sports Policy during the year was an important milestone for Irish sport and will be central to our work in the coming years. At the heart of our ambition for the new policy, we want to see more and more people from all areas of society participating in sport and physical activity and enjoying the benefits that participation brings for everyone. As we begin to implement the actions in the policy, I hope that 2019 will bring good progress towards achieving that ambition.
"I want to acknowledge the wonderful successes and inspirational performances of our very talented sportsmen and women with disabilities during this year, with 14 medals achieved across the para-sports of cycling, swimming and athletics. This is a wonderful achievement and bodes well for the 2020 Paralympic Games in Tokyo. The setting of goals for the inclusion of people with disabilities in sport will become a priority for the Sports Leadership Group who will oversee the implementation of the actions in the National Sports Policy. The actions that are planned will go a long way towards improving the situation and ensuring that opportunities exist for everyone who wants to participate in sport. I am delighted that an additional €1m is being provided in 2019 to create a dedicated programme for disability sport through the deployment of a Sport Inclusion Disability Officer in all 26 Local Sports Partnerships countrywide. This is an important measure for people with disabilities and I am delighted that it can now be put in place.
"We delivered a lot for sport in 2018. Additional funding was provided for high performance sport to assist sporting bodies and athletes in their preparations for the Tokyo 2020 Olympic and Paralympic Games. We secured a significant increase in funding for 2019 which will enable Sport Ireland to continue to support National Governing Bodies of Sport through the core funding and high performance funding programmes and to allocate increased funding for its Women in Sport programme. I am delighted to see such good progress made on the development of Phase Two of the National Indoor Arena at the Sport Ireland National Sports Campus and I look forward to seeing that facility in use in 2019. Finally, my Department launched a new round of the Sports Capital Programme and the new Large Scale Sport Infrastructure Fund during the year and I will be announcing allocations in 2019"
The National Sports Policy 2018-2027 was published in July, which was followed by welcome news in October's Budget of a significant increase in funding for sport in 2019.
Commenting on the publication of the National Sports Policy 2018-2027, Chairman of Sport Ireland, Kieran Mulvey, said: "The most significant event in 2018 was the publication of the new National Sports Policy, which shapes the future direction of sport in Ireland over the next decade. Through a significant budget increase announced in October, and the commitment to sustained increases in funding over the lifetime of the policy, Sport Ireland has been challenged to deliver on the actions of the policy. This is to be welcomed and shows that the Government has responded very positively to the case made by Sport Ireland and the Irish sporting community with a broad commitment to sport and physical activity. On behalf of Sport Ireland, I would like to thank Minister Ross and Minister Griffin, and their department officials for their work in advocating the need for increased and sustained investment in sport, which will allow us to continue to support our National Governing Bodies and Local Sports Partnerships."
Over the course of the past twelve months, Irish athletes won a total of 77 medals in international competition, with 44 won by female athletes and 44 by junior athletes. The high performance system in Ireland continued to develop in 2018 with significant milestones achieved, most recently the signing of a landmark partnership between the Sport Ireland Institute and the Olympic Federation of Ireland.
Success on the playing field his has been underpinned by the continuation of the development and addition to the infrastructure of the Sport Ireland National Sports Campus and development of services at the Sport Ireland Institute.
In 2018, Sport Ireland worked closely with over 60 National Governing Bodies for Sport and 29 Local Sports Partnerships, providing support in the areas of strategic planning, coaching, governance, anti-doping, Code of Ethics, capacity building and administration.
Mr Mulvey, continued: "2018 has been an exceptional year for Irish sport. While we have seen continued success in sports such as athletics, boxing and rowing, 2018 has seen significant breakthroughs for sports such as hockey, gymnastics and eventing demonstrating a broad range of success. We have been delighted to support our athletes through the Sport Ireland Institute and addition of facilities to the Sport Ireland National Sports Campus, which has become the focus of high performance sport in Ireland. This month we were delighted that Minister Ross was in a position to announce the construction of a state of the art hockey pitch, which will be ready next year along with Phase Two of the National Indoor Arena with the Velodrome and Badminton Centre which will come on line in due course."
Chief Executive of Sport Ireland, John Treacy, added: "The work of the National Governing Bodies and Local Sports Partnership is central to Sport Ireland. Ensuring that they have the necessary supports in place to deliver on the investment they receive is of paramount importance. Sport Ireland was pleased to roll out of further supports in 2018, including the Dormant Accounts funded ASPIRE Graduate Programme which will assist NGBs in delivering on their strategic objectives and giving recent graduates an opportunity to kick-start their careers in the sport sector."
Throughout the year, Sport Ireland continued to take a strong stance on the ongoing international issues in the fight against doping in sport, while domestically Sport Ireland continued to develop its national anti-doping education programme through the training of additional tutors in National Governing Bodies.
Mr Treacy added: "2018 was another difficult year for the global fight against doping in sport. On numerous occasions we joined with international colleagues to express our views on the manner in which the Russian doping scandal has been handled, the treatment of athletes and the governance issues which exist within WADA. We are hopeful that 2019 will be a more positive year on the international front. Domestically, Sport Ireland has put a big emphasis on strengthening our anti-doping education programme, empowering NGBs to make sure all athletes and coaches are aware of the risk and obligations. At an administrative level, we were delighted to be declared fully WADA Code Compliant in 2018."
There was also positive news on the participation front, with the most recent Irish Sports Monitor Report showing that gender gap in sports participation narrower than any point since Irish Sports Monitor introduced in 2007, with the network of Local Sports Partnerships continuing to deliver a wide range of programmes targeted at getting more people active on a regular basis. Sport Ireland was again in a position to distribute extensive funding through the Dormant Accounts Fund and the Healthy Ireland Fund, demonstrating a joined up approach across Government departments in recognising the benefits of sport and physical activity.
Sport Ireland Director of Participation and Ethics, Dr Una May, added: "We have seen a lot of key developments around the country due to the work of the Local Sports Partnership Network. Dormant Accounts funded projects such as the Community Sport and Physical Activity Hubs are making a real difference in communities and the partnerships developed at a local level are strengthening networks and providing more opportunities for people to engage in sport and physical activity. The new funding streams are allowing Local Sports Partnerships to develop new and innovative projects, which will help foster a sense of community through sport."