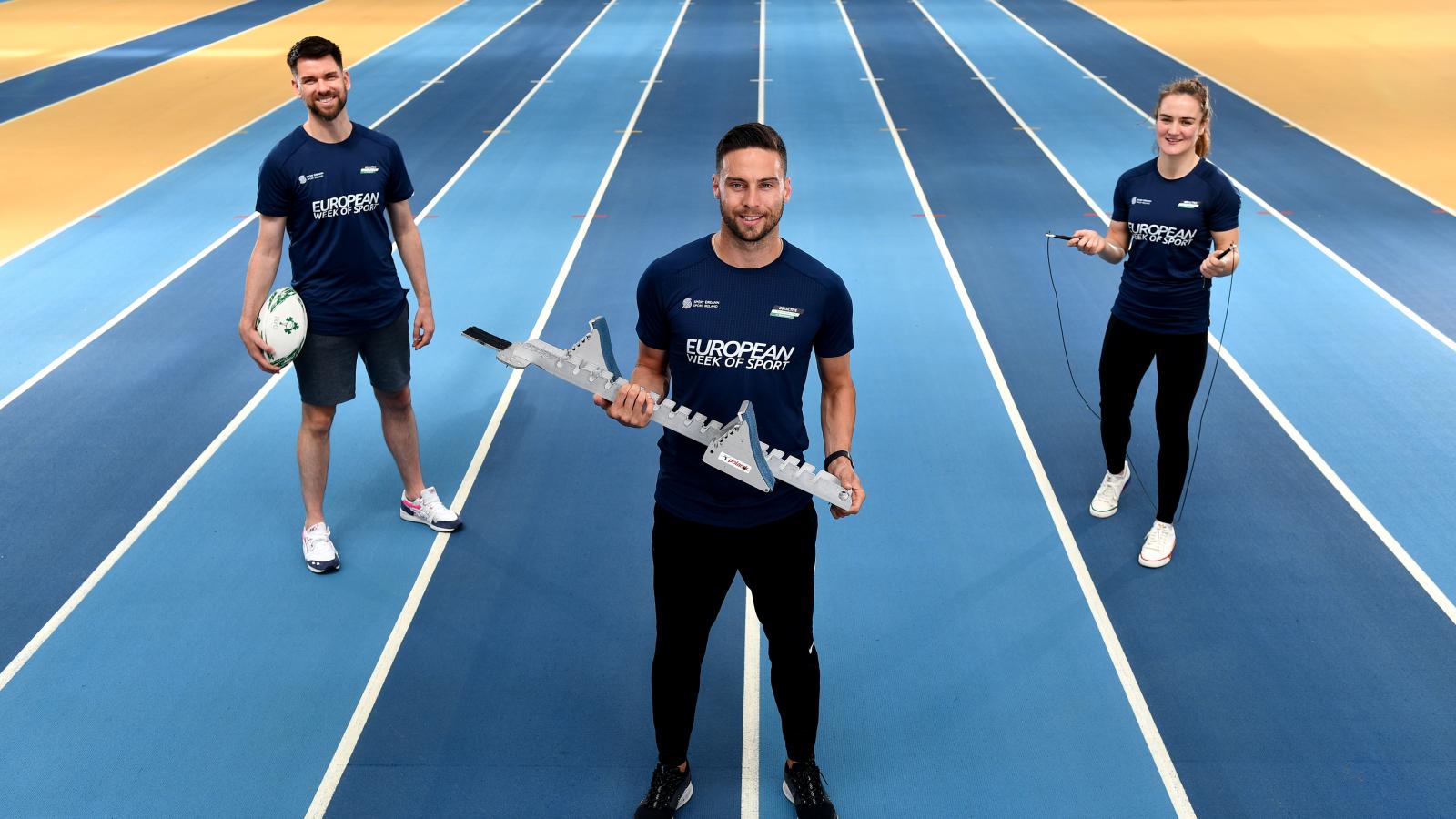 Sport Ireland Launches European Week of Sport 2020
Sport Ireland, with help from ambassadors Eoghan McDermott, Kellie Harrington, and Brian Gregan, is calling on you, to get out and #BeActive for European Week of Sport 2020 which runs from the 23rd – 30th of September. There will be a mixture of online and offline events available to cater to the needs of every member of the community making it easy to #BeActive, even from the comfort of your front room.
Sport Ireland, the National Co-ordinating Body for European Week of Sport in Ireland hopes this year's event will inspire even more people than previous years and has provided funding to multiple flagship events as well as local events run by Local Sports Partnerships.
A European Commission led initiative; European Week of Sport aims to increase the level of participation in sport and physical activity in the EU. European Week of Sport aims to tackle the inactivity crisis and reduce obesity levels by encouraging Europeans to embrace a healthier and more active lifestyle. Multiple events throughout the week are proudly supported by partner Healthy Ireland.
The week is for everyone, regardless of age, background, or fitness level. By bringing awareness to the fact that an active lifestyle is for everyone, European Week of Sport aims to act as a springboard in to being more active. In 2019 an estimated 110,196 people took part in over 800 events in Ireland.
Commenting on European Week of Sport, Chief Executive of Sport Ireland, John Treacy, said "With a focus on grassroots initiatives, the aim is to inspire people to be active on a regular basis and create opportunities in peoples' everyday lives to exercise and move more. Research has shown that regular physical activity is good for both the mind and the body and in the current times, this is more important than ever. I look forward to seeing all of the events across the country this European Week of Sport and want to thank everyone who helps to make sport and physical activity available in their communities."
" This is a great opportunity for people of all ages to try out a new sport for the first time or get back involved in a sport that they have always loved. It's not about going out and being the best, we just want people to get out and be active which will no doubt see a positive knock on effect on both their physical and mental health"
Sport Ireland undertakes a wide range of actions with the aim of increasing sport and physical activity participation levels within local communities across Ireland. Working with trusted professionals and valued volunteers Sport Ireland works with the Network of Sport Ireland Local Sports Partnerships to deliver inclusive, impactful and sustainable opportunities tailored to local needs, getting Ireland more physically active, involved in sport and improving the mental and physical health of the nation
"I see so many people in my community who think that maybe sport has passed them by, but this is not the case for anyone, no matter what your age or fitness level is. I believe sport is a way to bring the community together, help people make new friends, and boost their mental/physical health and I would love to see as many people as possible out trying something new during European Week of Sport, who knows where it could lead them!"
For more information on what events Sport Ireland, Local Sports Partnerships, and Partner Organisations are running in your area and how to get involved visit –www.sportireland.ie/europeanweekofsport.
All European Week of Sport events will be run in line with up to date public health guidelines and with public safety a priority. Many events will take place virtually, allowing you to be active from the safety of your own home. 
Sport has had such a huge impact on my life, and I feel passionate about the impact it can have on society as whole. European Week of Sport is a fantastic initiative that will encourage people from all walks of life to go out and be active, try out a new sport, and hopefully find something they will love to do for the rest of their lives. I encourage everyone to get involved and experience the benefits first hand!"